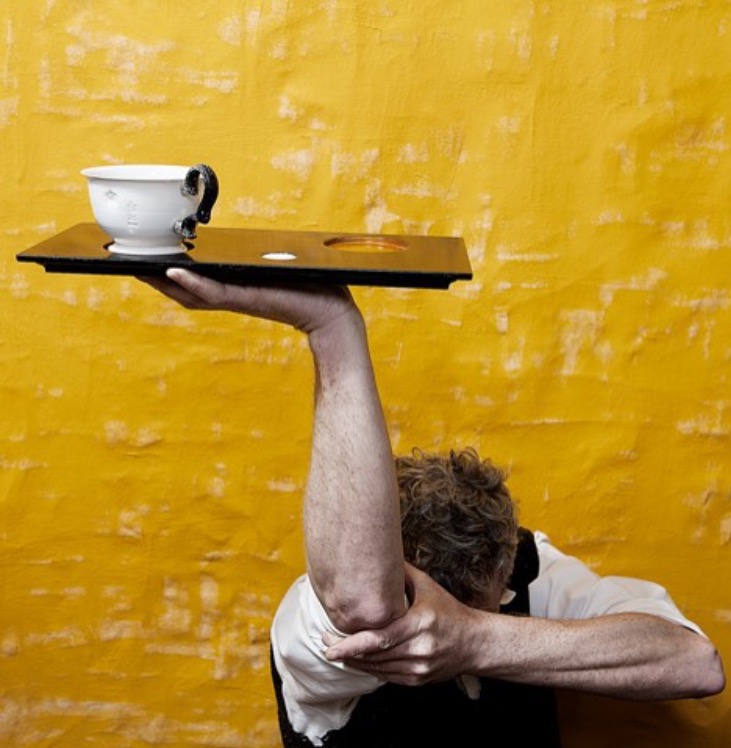 Steve Harrison produces salt-fired functional pottery in his studios in London and Wales, U.K. A historical Victorian aesthetic is the foundation of his work, but his approach is innovative, experimental, too. In the nearly fifteen years that I've been looking at his work, I've come to appreciate the fluency with which he expresses himself in the language of his craft. His work is always masterfully thrown. It often features subtle sprig-molded "button" additions, the incorporation of metal and wood, and a very specific yet fluid vocabulary of forms. His 2015 exhibition in London, Cup Board, explored the evolution of cups and cupboards, and the way in which they exist in domestic spaces. Cup Board highlighted his deep knowledge of design and function, as well as his intense, personal connection to pottery traditions. At the opening of the show, it was evident that he is equally personally connected to his strong following of customers, collectors, and patrons.
Steve grew up in Enfield, England, just north of London, a place with a strong tradition of manufacturing and the original home of the 303 Enfield Rifle Factory. Steve and his wife, Julia, a childhood friend of my husband, still live there. The culture of manufacturing was especially pervasive when they were young. Almost everyone they knew was involved with making, tinkering, or restoring something. While he was setting up his first ceramics studio in his mother-in-law's garage, Steve was also restoring an old Mini Cooper and building a working car from a kit. Steve even fabricated a new piece for a broken foot pedal on my husband's motorcycle one afternoon. Steve is comfortable working in a variety of media and materials; metal is one of his favorites. In fact, Steve seems able to make almost anything. He fabricates his own metal tools, plaster molds, and a host of other inventions.
My husband and I visited Steve and Julia in 2000. They had recently bought an old and tiny stone cottage in Wales (Julia's mother is Welsh), and we all went there for a week to help him set up a second studio at the cottage. He built the studio in an old army barracks, with two long walls consisting mostly of antique windows. Since the cottage in Wales was so tiny, several of us slept in a tent. Steve devised an outdoor shower for us. He ran a hose from a rainwater barrel to a hand drill pump, then to an old metal watering can wedged in the crook of a tree behind a shed. Thanks to Steve's ingenuity, we had a delightful open-air shower (our using it did provoke the occasional odd look from cows in the neighboring field).
Cup Board evolved out of Steve's multimedia innovations and investigative process. It featured sets, or families, of cups set into wooden boards that he designed and finished to fit each set. Steve claims that cups are the most important and intimate object he makes, and he relies heavily on historical research for inspiration.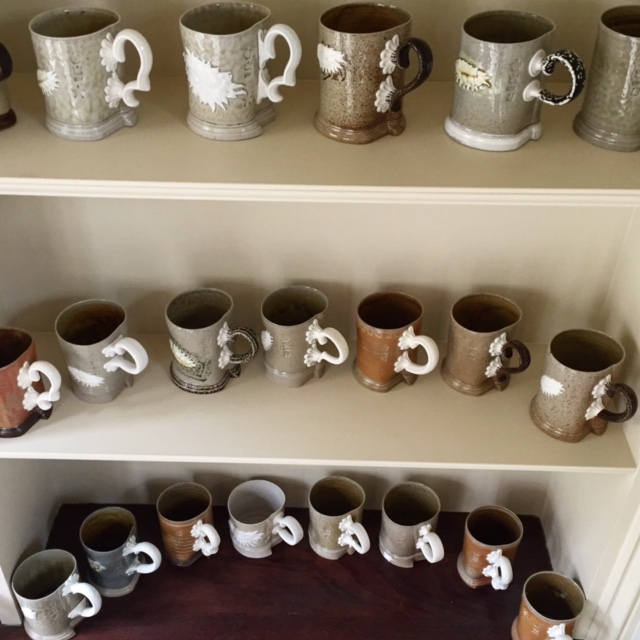 In looking into the origin of the word cupboard, Steve learned that in the Middle Ages a cupboard was simply a board perched on two rocks. Eventually it developed into an alcove and then into the independent closet-like cupboard we know today. Steve spent almost six years conducting research of various shapes, sizes, and colors of boards as "homes" in which to display and store cups. His goal for these "homes" was for them to be more visible than the standard kitchen cupboard. His boards provide a specific context for the cups, which creates tension between the functional and the decorative. Each board featured an ensemble, and the word family sprung to my mind many times during the afternoon I spent talking with him at his exhibition.
Executing his Cup Board concept was not without complications. Salt firing – his ceramic passion – is not possible at his home studio in London. Consequently, he makes his work in London, then transports the bisqued wares to his cottage studio in Wales (a four-hour drive). Though Steve has been criticized for having two workshops, working in both is a way for him to reevaluate his work before glaze-firing it. The contrast between urban and rural environments gives him new perspectives, leads him to question his habits, and helps him avoid getting into a mindless routine.
His porcelain cups have salt-glazed stoneware handles; the process of assembling them involved several challenges. Creating the correct curve to allow for differences in shrinkage rates was key, and some of the very thinly thrown porcelain cups warped when fitted with too-heavy handles. These setbacks often necessitated much remaking and many do-overs, but with tireless persistence and buoyant enthusiasm, Steve simply incorporated them into his experimental process.
The boards in the show were custom-fit to their cups, both physically and aesthetically. Some of the boards were modern and funky, providing a context atypical of that of stoneware pottery. Steve often juxtaposes his Victorian-style details with other inventive elements. He intentionally dents many of his cups and even carves a sharp, stepped seam in some to break up the symmetry. For Cup Board, Steve particularly enjoyed making only cups as the clay component because, for him, they are complex forms. His personal challenge was to unify them visually; he wanted the user to recognize the concept of the cup family in his/her first encounter.
The boards and cups were arranged around the gallery on stands Steve made from brass rods. The show also featured a large table design for which Steve is known. It can be assembled using nothing but one's hands because of two oversized wing nuts easily twelve inches in height.
The wing nuts have become a signature of Steve's, appearing on his pots in various forms (and in much smaller sizes) for years. He derived this icon from an old agricultural piece of hardware he found at his workshop in Wales. He estimates that this artifact is 200 to 300 years old and believes it was made by a blacksmith who "had fun" exaggerating the wings into the shape of a bird's wings. There is no functional need for them to be so curvy. Steve's appropriation of this anonymous blacksmith's touch of personal expression in the making of a functional object (for no apparent reason other than artistic urge, ability and perhaps intellectual curiosity) is highly reflective of Steve's process and indeed represents the connection he feels to makers of the past.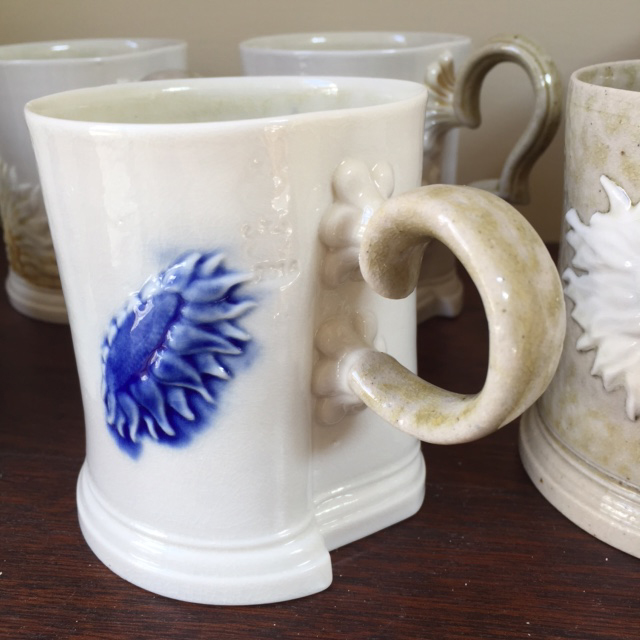 Steve's mode of commerce is equally personal. Over many years, he has garnered a huge following. Most of these collectors, patrons, and enthusiasts have been treated to a ritual of conversation, cake, and tea at Steve's home just before a studio visit. Steve has very little interest in cultivating an online presence, and the vast majority of his sales are done directly between him and his patrons. Several galleries in the UK and in Japan carry his work, but he thrives on face-to-face encounters, which allow for a personal exchange and dialogue about the evolution of his work.
As a potter, I was quite surprised to see how many red dots Steve had on his exhibition list, and even more surprised when he told me that many of the works had sold before the show opened. Steve had worried that a private view in a small gallery would be difficult, with people scrambling to choose and buy boards. So instead, he had people come to his studio to see the work before the private view. He sold ten boards before the show even opened. Several people acquired second boards during the private gallery viewing. This approach helped eliminate the focus on sales that often defines the success of an exhibition. Instead, it focused attention on the body of work and its successful arrangement in the gallery.
The exhibition was also successful in providing him with closure for this particular investigation. Although he will never cease to make cups, he feels satisfied with his exploration of the board-and-cup pairings. He has several new areas of research planned, although they aren't as in-depth as Cup Board. Some projects may be more conceptually oriented, others more geared toward the functional, but Steve's future will always include pursuing subtle and new variations in the form of pots.