Olari is a small village near the town of Horezu, Romania, 223 kilometers northwest of Bucharest. The village is close to the famous Horezu Monastery, which Prince Constantine Bråncoveau built in 1690. The prince invited local skilled craftsmen to work there. Fresco painters, woodworkers, and weavers assisted in the construction and decoration of the monastery. After its opening some craftsmen produced pottery in workshops nearby. They made pots on kick wheels and decorated them using a slip-trailing technique. From these origins came the distinctive pottery of Olari which, in fact, gave the town its name—olari means "potters" in Romanian.
The pottery of Olari reflects generations' worth of knowledge and skill handed down through pottery families, and today it is supported by a robust retail art market. In 2012, Horezu ceramics was added to the UNESCO Intangible Cultural Heritage List, which honors creative traditions "transmitted from generation to generation."[1] Artists who perpetuate respect for historical culture and creativity are recognized and rewarded, such as the Olari potters, who first produced wares at the monastery.
Twenty years ago, I was awarded a travel grant that enabled me to visit Olari to learn about traditional slip-trailing techniques from pottery families there. Recently, I returned to Olari. Just as it had on my first visit, it reminded me of a 1700s story-book village. The potters live simply, in a place that meets the requirements for pottery making: local availability of supplies and tools; an abundance of skilled craftspeople and plenty of customers.
Supplies and Tools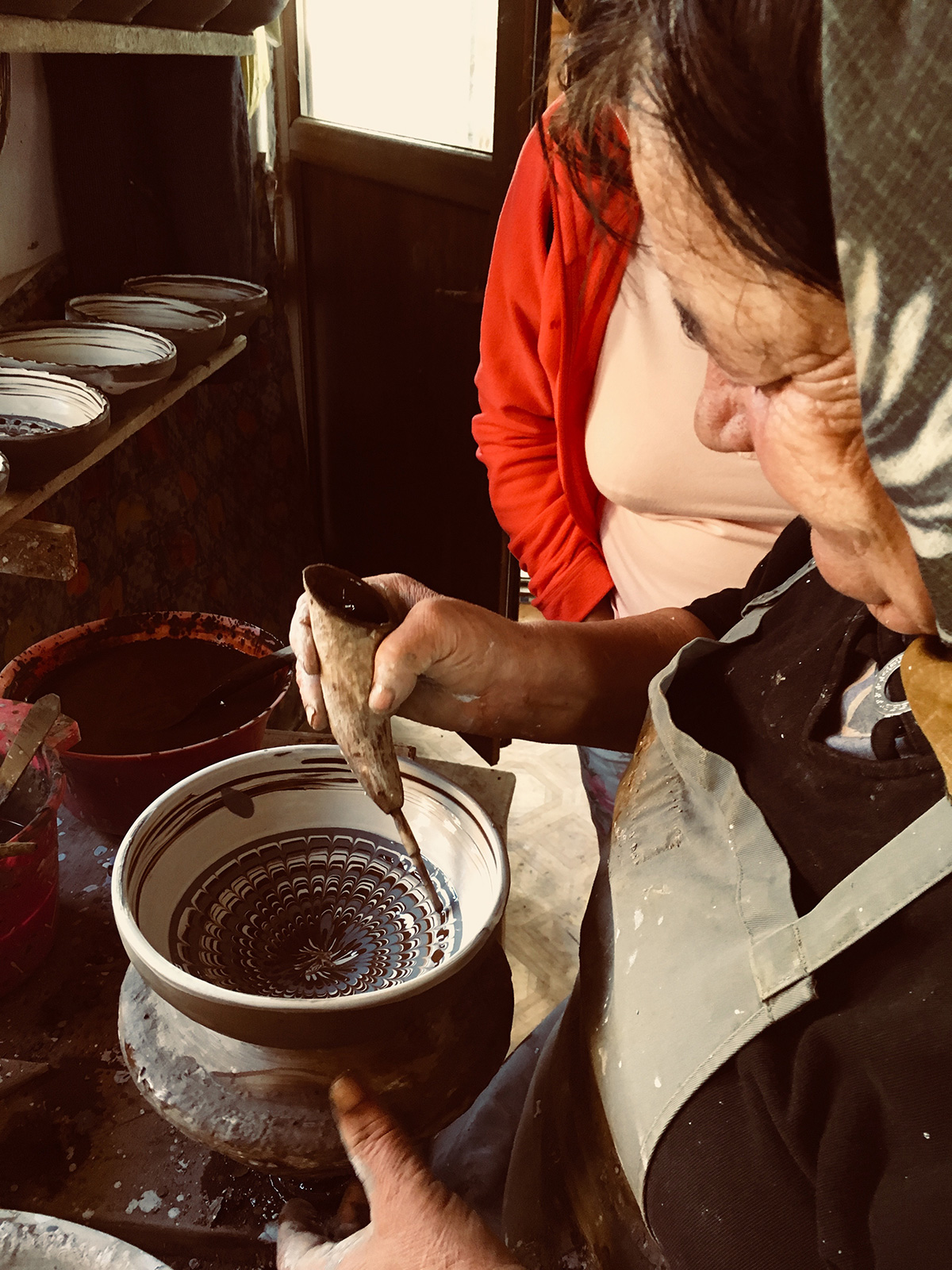 Olari has the raw materials, such as clay, minerals, wood, and water, needed to make pottery, in abundance. Each pottery family digs reddish clay (lut) from communal pits on the outskirts of town. From another nearby location, white clay is excavated and used to make a white slip (argila alba) that covers the pots before slip trailing. Minerals used to make black, brown, tan, and green slips also come from surrounding areas. The locations of the mineral deposits are not secret; all the local potters know them. Potters harvest hardwoods from surrounding forests, and members of their families cut, haul, split, and stack the firewood for the firings. In addition, potters keep animals and tend small crops—just enough to support their families. What makes Olari unique among pottery sites in Romania is that pottery is the main local industry.
Olari potters use many traditional tools that they make and repair themselves, such as ball mills, kick wheels (roata), and a hollowed-out bull's horn (corn). The bull's horn is used with a goose-feather quill to decorate pots by slip-trailing. Through capillary action, potters apply slip to pots in geometric and organic patterns. To fashion a traditional sunburst pattern known as jirăvirea, potters drag a pin on a stick through concentric circles of slip.
Olari potters fire in a cuptor, a primitive wood-burning kiln that is barrel-shaped, with no lid. During firing (arde), old pots and shards spanning the kiln opening capture and maintain the heat within. The potters do not use kiln shelves. Rather, a kiln load of plates will be stacked on their sides in a spiral pattern; the rims and feet of the plates are not glazed and thus will not stick to each other. When the kiln is fully loaded, the opening at the top is covered with shards. The tops of barrel kilns are also used to dry greenware pots so that they can be bisque-fired more quickly.
The first time I was in Olari, potters were using lead-based glazes (smaltz), fired to approximately 1,000° C (1,832° F). I predicted then that to sell pots outside of Romania, they would have to eliminate the lead from the glazes. Most pottery families in Olari now import a clear, leadless glaze in powder form from Hungary. Since joining the European Union (EU) in 2007, Romania's trade with other EU countries has increased, and cobalt is now imported to make blue slip. EU visitors, who are used to buying blue-decorated plates decorated in the rest of Europe, appreciate this additional color choice.
Skilled Craftsmen
The same pottery families were living in Olari as during my previous visit. There are eighteen pottery workshops, including multiple studios of the families Ogrezeanu, Vicşoreanu, Iorga, Buclescu, Mischiu and Popa. The current Olari ceramists have learned from their elders to make a variety of forms, including bowls, mugs, vases, and especially the well-known plates (farfurie) with wires attached to the backs for hanging. Customers on the streets of Olari can identify which houses contain a pottery studio by the handmade plates hanging on the outside of most homes.
Olari pottery production is divided by gender. Men dig the clay, which is then cleaned to remove non-clay material. Men and boys break large balls of clay into small particles through a wetting and drying process, then wedge the clay (often by foot). The clay is not used immediately; it needs to age, so it is stored. Men also throw the vessels on the pottery wheel. While the pots are newly thrown and just barely stiff, but before trimming, women decorate the thrown pieces by slip-trailing, using traditional tools and motifs.
The symbolism of Romanian pottery decoration derives from a strong agrarian culture and a Christian history. The most popular motif is the Horezu Rooster, a symbol of resurrection and immortality. Since Romanian pottery historically played a role in wedding and funeral ceremonies, Christian symbols, such as the cross, the snake, the vine, and the star adorn many plates. Concentric circles, as well as grapes, leaves, clover, and wheat—a reflection of the importance of agriculture in the region—are other common decorative elements.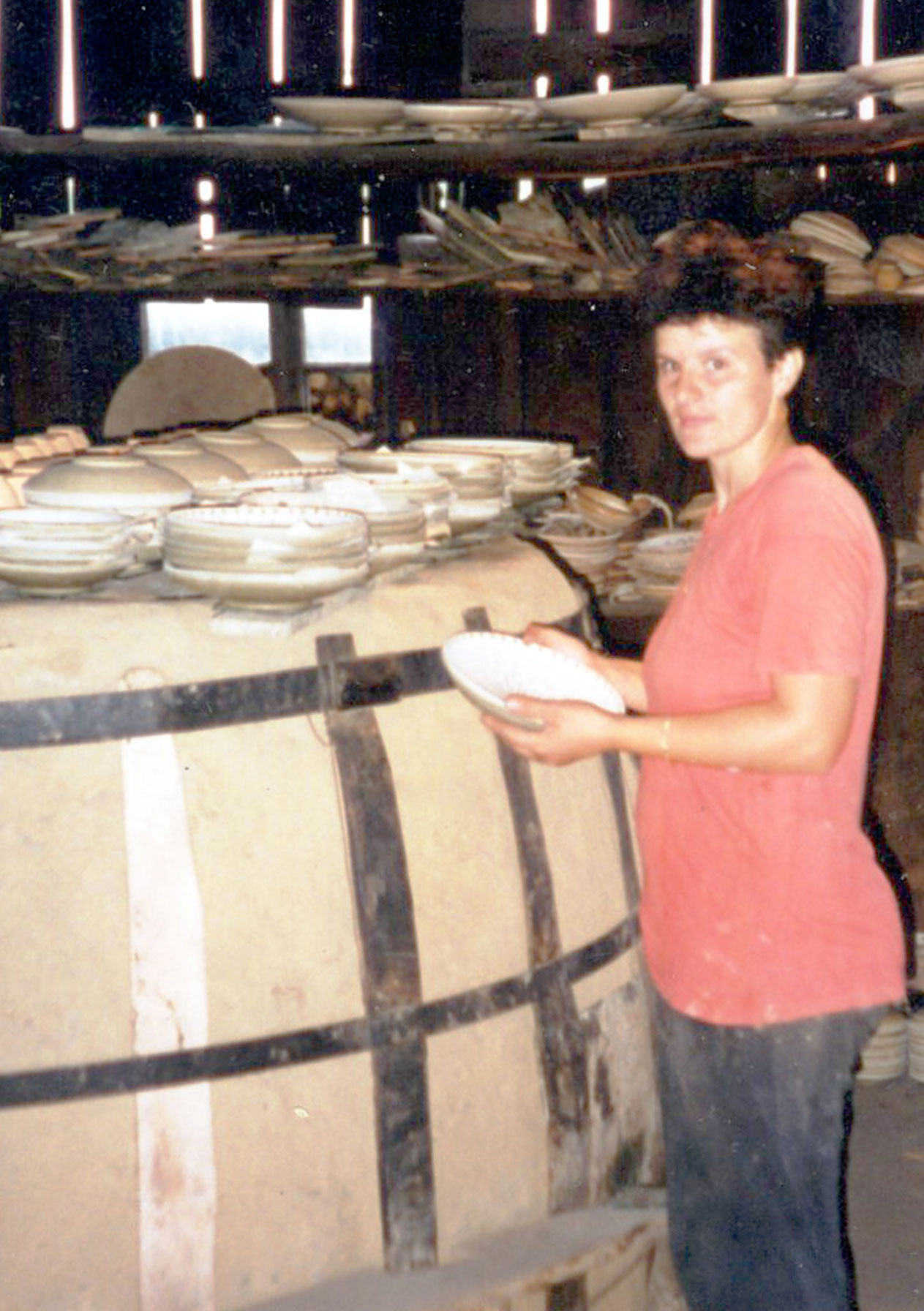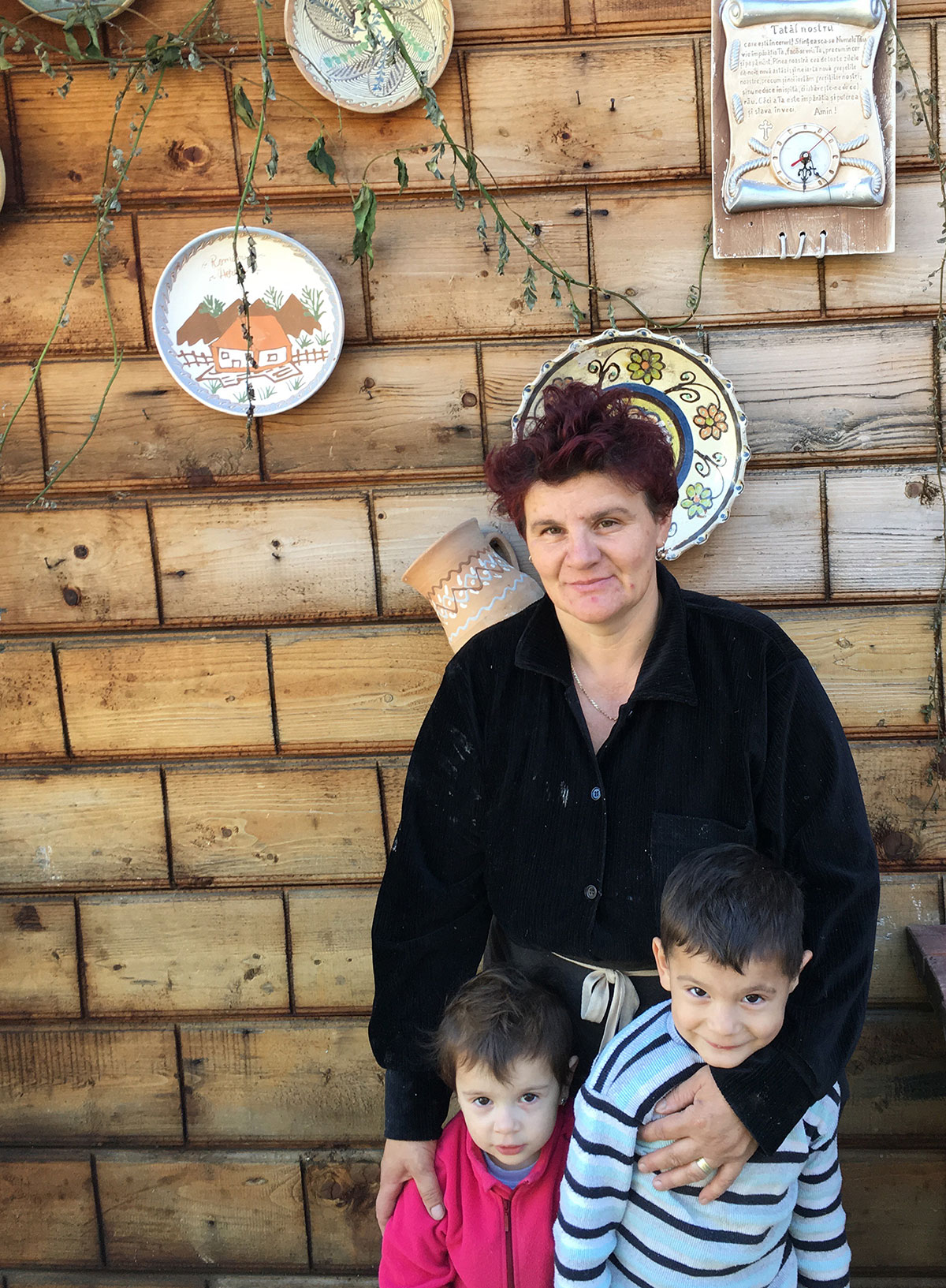 Branches of the pottery families live, create, and sell on the same street in Olari. One of my original contacts, Alina Iorga, had just lost her husband three months before I arrived. Her daughter has taken over the throwing chores of her father. Gender roles may be in transition because of the influence of commerce with other EU countries. Alina not only decorates the ware but also cares for her daughter's children.
Customers
Historically, customers were tourists visiting the nearby monastery of Horezu. The monastery still attracts many pilgrims—and buyers of Olari pottery. Expositions, fairs and awards sponsored by the Romanian Ethnographic Institute, museums, galleries, and local governments help preserve and promote Olari and Horezu slip-decoration and pottery-making.
Many people choose to travel to Olari and Horezu to buy pottery directly from the craftspeople and to enjoy the charm of the countryside. Shops in large Romanian cities carry Olari and other villages' pottery, as well as contemporary, less traditional work.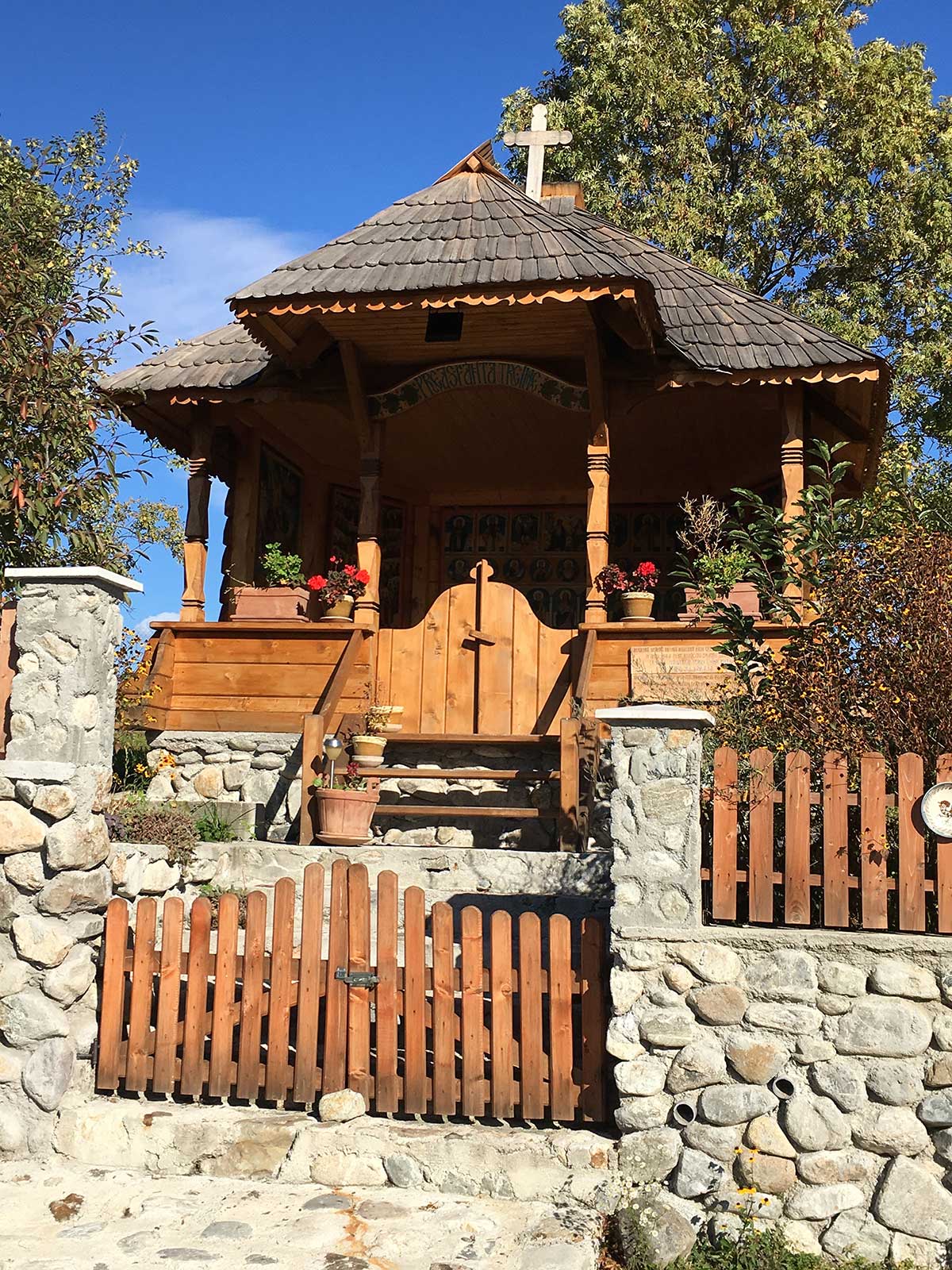 I realized how much Olari had changed when I saw a tourist bus from Bucharest bumping along the dirt road into the village. It stopped at one of the Olari pottery studios and dozens of tourists, traveling with a guide, poured out. Around Olari, contemporary life encroaches; I noticed the presence of a satellite dish on the home of the pottery family Vicşoreanu. Also new since my last visit is the potters' chapel. Communal prayer was long denied to the Romanians during the reign of Communism but has returned to village life in full.
For the past twenty years, I have decorated pots with a modified version of the slip-trailing technique that I first observed being used by the Olari potters. I do not employ the traditional Romanian motifs but, rather, I create abstract shapes from my imagination. The Olari use a hollow bull's horn; I use a plastic squirt bottle. Although the color palette of the Olari pottery has expanded, it is still modest compared to my nearly unlimited choice of slip colors, restricted only by available Mason stains. I also do not need a liner glaze, as my white earthenware is not porous like the red clay that the Olari dig from their hills. Since electricity is more affordable in the United States than in Romania, I use an electric wheel and kiln rather than a kick-wheel and a wood-burning kiln. Our commonality is in the beauty of a similar slip-trailing technique … and, I suppose, the fact that we both now use lead-free and food-safe glaze.