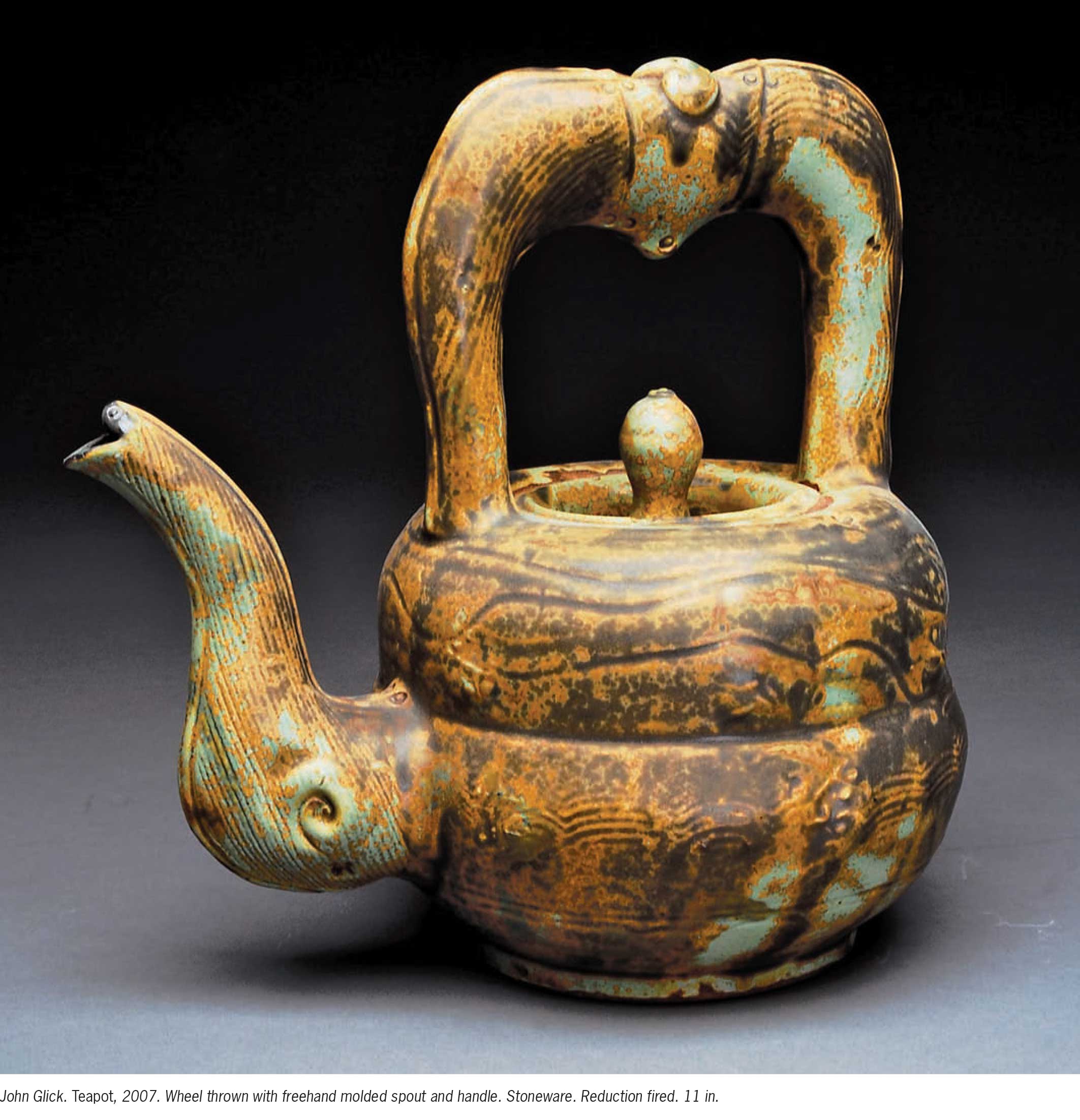 John Glick has owned and operated Plum Tree Pottery in Farmington Hills, Michigan for more than fifty years. For many his name conjures visions of thick, layered glazes that dress grand and strong ceramic forms with a lightness of brushwork and depth of color unsurpassed in American ceramics. For others, the name summons memories of dancing to blaring music around glaze buckets, inspecting, then drooling over the juiciness of a single drip of crystal-laden glaze from a salt firing, or returning to the studio from some small afternoon task to find a gigantic spoonful of peanut butter and chocolate patiently waiting on the wheelhead to be gobbled up in delight. Those "others" are a group of more than thirty assistants whom John has mentored over the course of his career (list of full year assistants below, in chronological order). As John embarks on a new phase of his career, which includes downsizing his studio, planning a substantial traveling exhibition, and relocating to California, a selection of his assistants eagerly agreed to write about their time at Plum Tree Pottery. Their words are a tribute to his legacy and give a glimpse of the many lasting gifts that John and time spent working at his Michigan pottery have given to all of his assistants, and byextension, to their studios, homes, families, friends, and students. – Elenor Wilson, SP Editor and PTP Assistant 2006. 
ROSTISLAV EISMONT, ASSITANT 1972 - 1973
It is the early seventies, and I am working as a designer at Redbook magazine in New York, but I'm intrigued by pottery. I start making pots at the Clay Art Center in Port Chester and soon realize I want more. I hear that Michigan potter, John Glick, offers apprenticeships. We meet, he agrees to take me on, and with the aid of a Tiffany Apprenticeship Grant, the possibility of "more" becomes reality. My ceramic education is limited so John suggests a summer workshop at Penland. A workshop with Warren MacKenzie opens my eyes to even more possibilities and broadens my skills. I learn to throw on a Leach treadle wheel and experience salt-firing. In September 1972, I move to Michigan and begin my apprenticeship.
John starts his day at five a.m. When I enter the studio at nine, it's brimming with newly formed work. He says he is not a production potter. Whereas a production potter may make virtually identical forms, producing a catalog of consistency, John works in series but, much like a painter or musician exploring a theme, he infuses each form with its own personality.
I learn to mix clay and develop glazes. I make tools. I observe his reduction-firing technique and learn the theory behind it. Each month, John produces hundreds of pots, while I struggle to find my voice with a few, firing some and reconstituting many. I discover that being a potter requires being a polymath, an ability to do and perform many things. Helping him build and fire a woodfueled salt kiln adds to my already overwhelming wealth of experience. The painterly effects of wood ash and salt vapor on the resulting objects captivate me, and I'm encouraged by the potential of this new process.
Too soon my pivotal time at Plum Tree Pottery comes to a close. Struggling against his substantial influence, I need time to explore my own path and with the help of John's good word, I apply for and start a three-year residency at Penland School of Crafts in North Carolina. As a parting gift, John gives me a copy of The Unknown Craftsman by Yanagi Soetsu, about the truth of simple functional objects. It reinforces and substantiates many of the principles I've picked up from John. The first step in transmission is complete.
PAUL YOUNG, ASSISTANT 1989-1991
In the early winter of 1988, after a day spent loading John's large kiln, I mentioned that I had heard he liked to play guitar on lunch breaks and asked if it was true. John admitted he hadn't played in years and introduced me to his Martin D-35. After I played a few songs, John suggested I play at his holiday soirée. Although the snow had begun to fly, I was still wearing my "Berks," with heavy socks. Every time I thought about getting more appropriate shoes, rent was due or my son, Dylan, needed diapers. So in exchange for my performance, John offered to buy me shoes. We worked out a deal, and I took the Martin home to work on my chops.
My playlist was all of a dozen songs. On the big day, I set up next to the drinks table. By the second set, people had become very supportive; they didn't seem to notice I was playing the same songs over again. That winter, my feet loved the new warm shoes, and I enjoyed playing the Martin. After all, strings are cheaper in a three pack, and I had to play out my stash!
My time at Plum Tree Pottery was crucial to my growth as a potter and a person. Back at the pottery for an open house recently, I smiled to see a group of young artists gathered around John, just "kicking the bricks," as he's fond of saying. The Martin maintains a clear tone that rings true. I should know, I played it this morning. Thank you, John.
KRISTINE POOLE, ASSISTANT 1992-1993
I could easily fill many pages with all I learned from John about studio practices, process, work ethic, inspiration, innovation, and dedication. His generosity as a teacher and mentor is expressed in his unwavering encouragement and enthusiasm for helping others find their own way. Of the many gifts I received during my time at Plum Tree Pottery, one of my favorites was a moment when I watched him glaze his "landscape" pieces. I was so moved by the experience that I went home that night and wrote a short tribute. I still believe that the only way to describe what happens when John works in the glaze room is through poetry.
Sunlight swirls in through the window
Winding around the room, coating everything with a gentle warmth.
My gaze follows the illuminated path
And I am lost in the scene before me:
The artist and his creations, dancing together,
Relaxed in each other's company in a way that only longtime friends or lovers can be.
The confidence of his hands coaxing beauty from his work
Is so like partners on a dance floor, one guiding the other.
Flowing movement from one color to the next –
Layers, windows, lines, and patterns seeming to simulate conversation.
The soft murmurs of their discourse drift in waves,
Indiscernible but to the imagination.
The subtle peach of a whispered secret
Is complemented by the rich earth tones of hearty laughter.
Staccato points of brilliant red chatter
Float comfortably on a field of crystal green shared experience.
Tendrils of creamy, mellow memories
Wind their way through the azure of future plans.
This, then, is the artist's dance.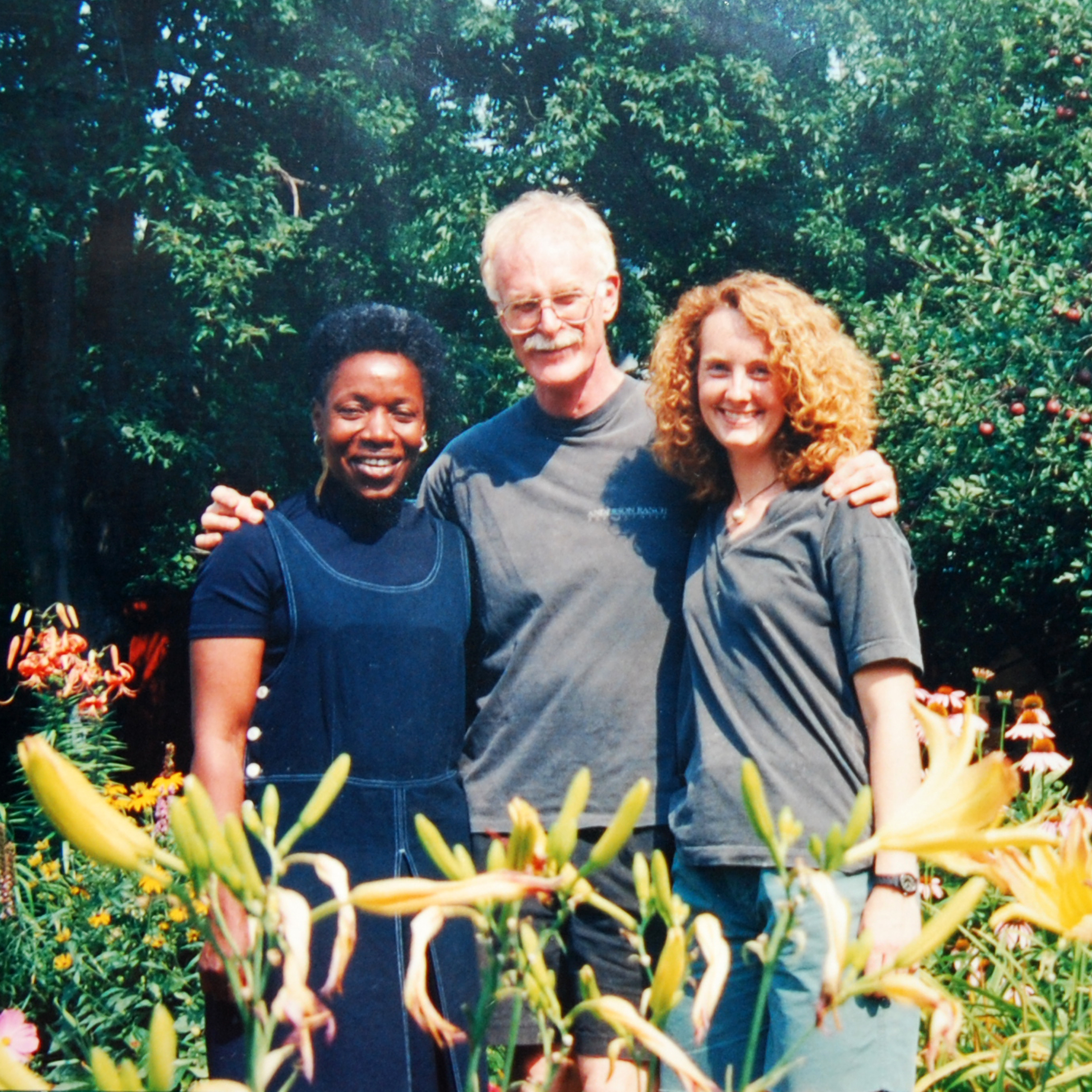 KRISTEN KIEFFER, ASSISTANT 1996-1997
My year with John was both formative and transformative. I always credit him with giving me everything I needed to get started on the path to being a studio potter, from showing me how to pack pots and care for the health of my back to pricing and problem solving. Working with John guided me in how to be a studio potter in mind and body. The most important thing John taught me is how to play. You can't work alongside a potter and glazer such as John without being inspired to shake off fear and explore. His energy and positivity are infectious. Without exaggeration, every day that I'm in my studio I'm grateful to have had the opportunity to learn from him. Indeed, I don't think I'd be the studio potter that I am without his mentorship.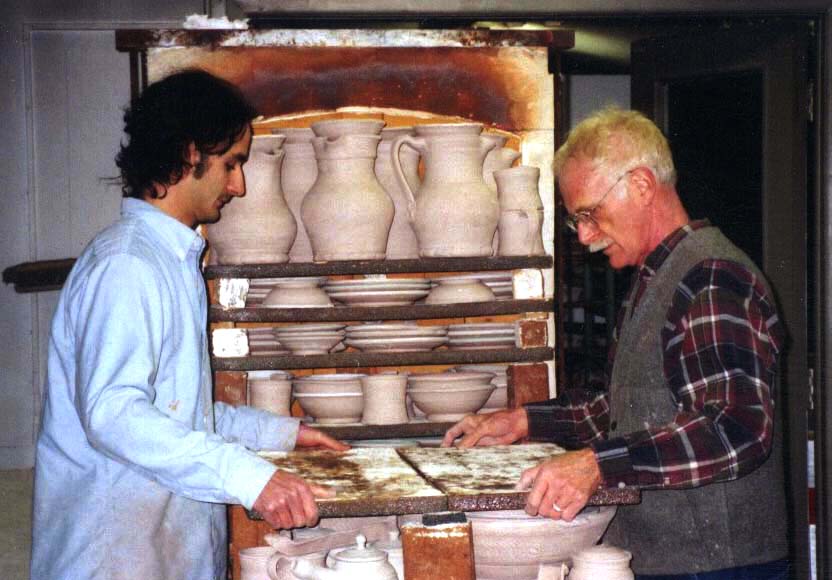 MARK COLE, ASSISTANT 2001-2002
As a mentor and master, John embodied the characteristics of a positive role model during a critical and formative time in the early stages of my journey in clay. My time as his apprentice was an invaluable supplement to my undergraduate education, allowing me insight into the daily, real world functions of a studio potter. Thirteen years later, the powerful experiences of my residency at Plum Tree Pottery still inform my studio practice, my work as an educator, and my daily life in meaningful ways.
John's personal interest in his residents and his willingness to share his skills, knowledge, and expertise for their benefit are admirable. For him, there are no trade secrets and no questions undeserving of an answer. Working alongside him was not like work at all, as he mentored mostly by example, setting and meeting goals as the studio work sessions progressed.
If this were all that had rubbed off on me in my year there, it would have been a rewarding time. John loves what he does, and because he does, he always gave a little more to his residents, just as he might add an extra layer of glaze or a few extra decorative dots and dashes to a piece. John works from his heart, and it shows in his positive attitude, his personable nature, and his enthusiasm for the field. His engagement, learning, growth, and sense of play in the studio were exciting; it's no wonder John's legacy is so strong. Being a positive role model to his residents is a way to feed himself; creating an environment of love, interest, and joy through his passionate work.
As I have moved on to be a mentor myself, I have come to rely on the ideals John lives by. I know that there are many ways of being a role model, but I am very grateful to know a really good one, the one at Plum Tree Pottery.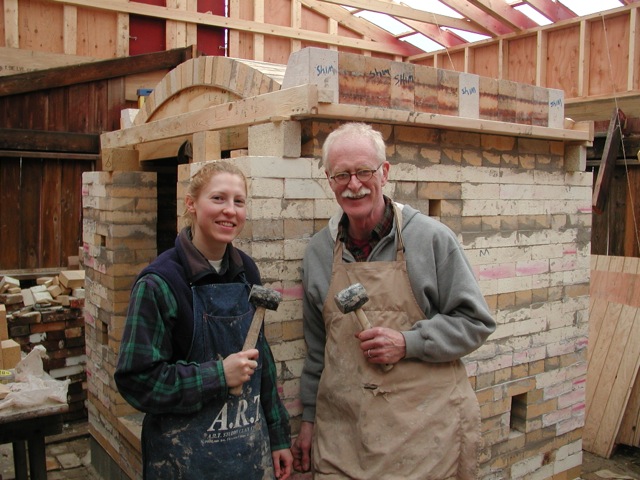 MELISSA VAUGHN, ASSISTANT 2004
Two words: chocolate sauce. John's wife Susie's homemade chocolate sauce, to be exact. In a comical, wellworn 8 x 10 photograph that is tacked to the PTP studio bulletin board, I have been captured – infamously – licking that sweet stuff off of a plate. It is a whimsical symbol of my having entered a place of zany humor where creativity and a spirit of playfulness abound.
When I first met John, I had just started out as an artist. John likes to compare my arrival, bright-eyed and bushy-tailed, on his doorstep to the opening of the film My Fair Lady, minus the rainy streets of London and the Cockney accent. As if by some fateful magnetic force, I was drawn to the studio just down the road from Oakland Community College, where I was a student. My horns were definitely green, but perhaps he recognized me as a kindred spirit and perceived my genuine desire to know all there is to know about the work and life of the studio potter.
My assistantship to this esteemed master of ceramics was a time of exponential growth and learning for me as both an artist and a person. From John I learned that hard work can and must be balanced by good music, wonderful treats, and occasional goofball antics – which brings us back to the day John dared me to lick chocolate sauce off a plate. For the past decade, the snapshot of this spontaneous moment (amongst many other dear photos of former assistants) has signified to my successors that John's pottery is a place where their inner child will be nurtured, encouraged, and celebrated with love. My time as an assistant to John (a.k.a. Glickie) was as rich and wonderful as Susie Sauce.
JULIA WALTHER, ASSISTANT 2012-2014
I wrapped up two years of working with John and his wife, Susie, in September. In addition to gaining them as two new members of my family, I got innumerable other gifts from the couple during my time at Plum Tree Pottery. I expect their influence will continue to weave its way through my work and life in years ahead.
John's conviction and his clarity about exactly what he's doing and why, is incredibly heartening to me as a young artist in what I find to be a cynical world. He operates from a place of confidence, joy, and excitement that gives him complete freedom to experiment, and he has been sharing that place with young people for the better part of four decades.
When I began my days in the studio with John, I noticed how he had solved tiny little studio problems: he'd tied a knot to secure the male and female ends of an extension chord so that when someone accidentally (and inevitably) tugged it apart, the loose ends wouldn't fly across the room. He'd added small stilts to all his ware boards so that plastic could easily be tucked in and under the work. And he'd built slatted shelving so those ware boards would slide on and off without the limitations of surface tension. In the course of a day, ignoring these seemingly small issues might seem a better use of one's time, but John has always been in it for the long haul. The amount of energy he invests to find a solution pays off tenfold in the time saved over fifty years, and this saved time gets applied to making his pots. He never verbalized it, but the subtext was clear: The correct choice is the one that eliminates the obstacles that lie between you and the making of work.
Web editor's note: John Glick established Plum Tree Pottery in 1965, and has been a contributor to Studio Potter since its beginnings in the early 70s. Over the next few months, SP will make John's articles available to the public online. Please support our efforts to do this and similar projects by donating to the Gerry Williams Digital Archive Fund.
John Glick's Full-Year Assistants:
Ruth Beal 1964-65
Paul Young 1989-91
Jennifer Everett 1999
Emelia Hiltner 2008
Jan Sadowski 1966-70
Chas Kipp 1991-1992
Kirke Martin 1999-2000
Tyra Forker 2009
Margie Hughto 1971
Kristine Houtari (Poole) 1992-1993
Mark Cole 2001-2002
Molly Jones 2010
Rosti Eismont 1972-73
Patti Roustemis 1993
Chris Townsend 2002
Brett Gray 2011
Beth Mueller 1977-78
Dustin Martin 1993-1994
Melissa Greener 2003
Adrienne Heinbaugh 2011-2012
Mark Derby 1984-85
Rob Rossell 1994-1995
Melissa Vaughn 2004
Julia Walther 2012-2014
Peter Stark 1986-87
Curtis Stewardson 1995-1996
Laura Korch 2005
 
Bruce Diebboll 1987-88
Kristen Kieffer 1996-1997
Elenor Wilson 2006
 
Tom Rohr 1988-89
Michael Verlinden 1997-1998
Jay Dion 2007