Editor's Note: This article has been edited from the original. The print version and an earlier online version of this article were found to have several inaccuracies. SP has worked diligently with the author and artists mentioned in this article to correct them. Please contact the editor with any questions or concerns.
Let's face it: wood-firing is hard work. Days and weeks of sawing, splitting, and stacking wood, cleaning shelves, and making pots to fill the kiln. Then come the long hours of loading and firing—hot, laborious, physically demanding work. And, this is after the heavy lifting of bricks, mortar, rocks, and steel required to build the kiln. The sheer effort it takes to get a fired pot, let alone a good one, is heroic. It's not for the faint of heart. And historically, in the United States, it's been a man's world.
Since the 1960s, women in the U.S. have been wood-firing against the odds. They have persevered through such challenges as discrimination, child-rearing, marriage, divorce, education, apprenticeships, aging, and the intense physical effort that it requires. Some have done so quietly, building their kilns in the backwoods with little or no help, making and firing in relative obscurity. Others have fired with the help of fellow potters, friends, family, or neighbors. Still others have become mentors and teachers, passing the torch to subsequent generations.
I recently had the great honor of talking to many contemporary American women wood-fire artists about their experiences. Of course, there are many other women that I did not have the chance to speak with, and their contributions to the lineage of wood-firing are equally important. Each makes the collective light of the fire grow brighter, and each has a few intrepid women—our godmothers—to thank for bringing the flame to our shores and lighting the way.
Godmothers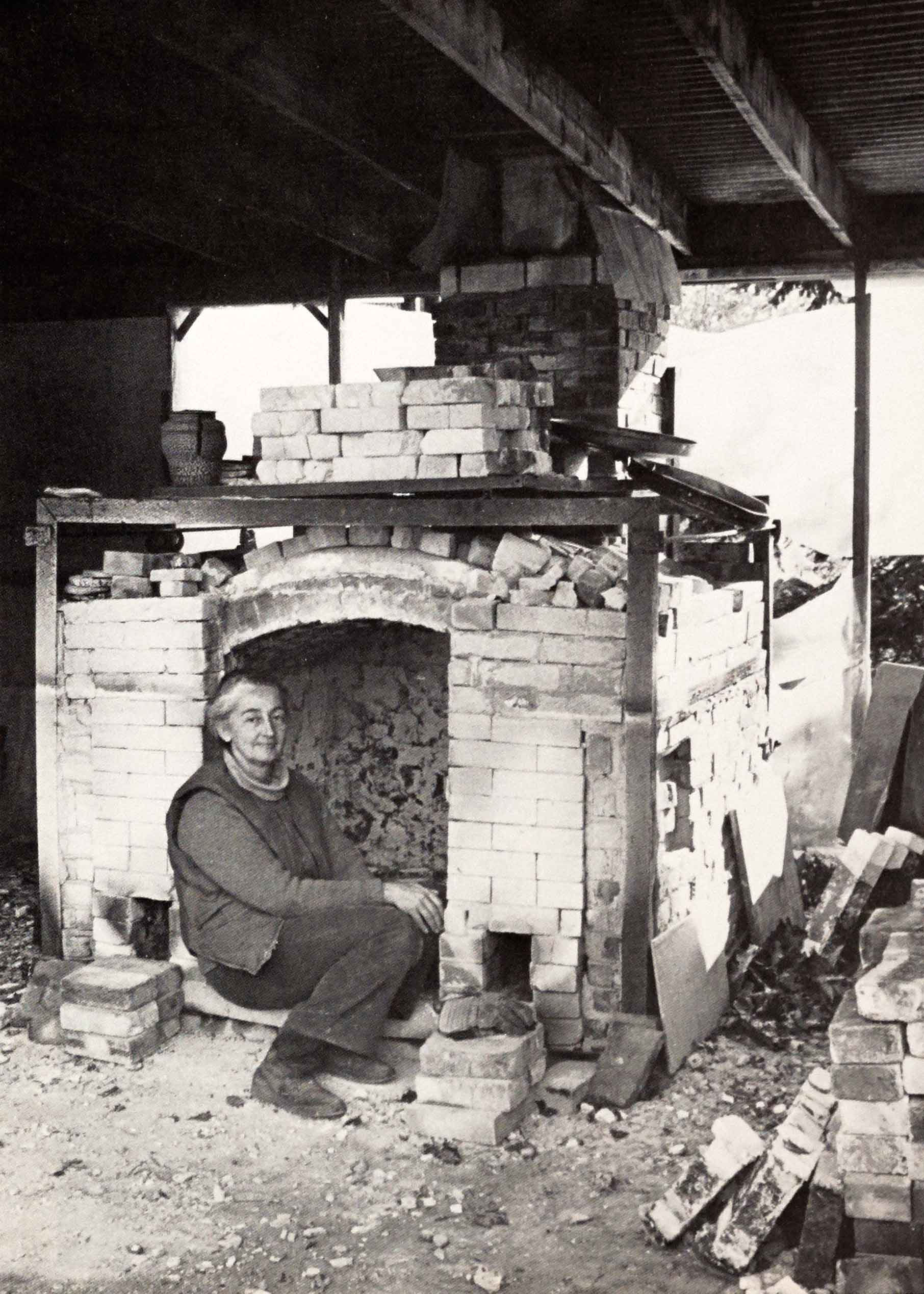 While firing with wood has been one of a few ways to finish pots for thousands of years (and in many countries, still the only method), wood-firing as an artistic choice is relatively new in the U.S. Many believe it started with the importation of the Leach/Hamada aesthetic in the 1950s and the influence of early adopters of the Asian style. But, by some accounts, it was a woman who ignited the interest in wood-firing in this country and two other women who advanced its popularity.
Ann Stannard may have been the first woman to bring wood-fire to this country. As an art teacher in the United Kingdom in the 1960s, she was researching and building wood kilns with elementary school students and other teachers. In 1968, Mary Caroline ("M. C.") Richards was studying in the U.K. and attended an experimental kiln-building workshop that Stannard led. The next year Richards invited Stannard to lead a similar workshop in Pennsylvania at the farm Richards shared with Paulus Berensohn. Karen Karnes was at that workshop, and it was the beginning of her interest in wood-fire, and a lifelong partnership with Stannard.
From that event, the sparks of wood-fire spread. Stannard went on to spend twenty-eight years with clay, championing the Bourry Box kiln—the type of kiln that many women today prefer. To this day, she downplays her remarkable influence, saying, "I was just following what interested me . . . it was easier for us back then than it is now."
Karnes became an inspiration to many, many clay artists, and her sister-in-flame, Mikhail Zakin, a well-known teacher and potter, mentored and fostered the development of generations of wood-fire ceramic artists through the Art School at the Old Church in Demarest, New Jersey, and its annual pottery show and sale.
We can call these women our godmothers, matriarchs to four subsequent generations of wood-firing women. Because of their indomitable spirits and perseverance, their passion and commitment, women are now wood-firing, building kilns, and contributing to innovations in the field in increasing numbers.
Forging Ahead Alone
"I never had a female teacher, ever, in any of my college classes," remembers Linda Christianson. "I didn't even really know anything about wood-firing." This is a common recollection of many early women wood-firers, who, though they were already in love with clay, had no exposure to wood-fire until some fateful moment.
At the Banff School for Fine Arts, in Alberta, Canada (now Banff Centre for Arts and Creativity), Linda was the studio tech when John Chalke came to build a wood kiln. "He pulled the plans out of his pocket on a scrap of paper, and we made our own bricks and built a two-chambered kiln. It was mostly women on the crew, and it was delightful. Most people were unhappy with the results, but I discovered something very intriguing about the surface."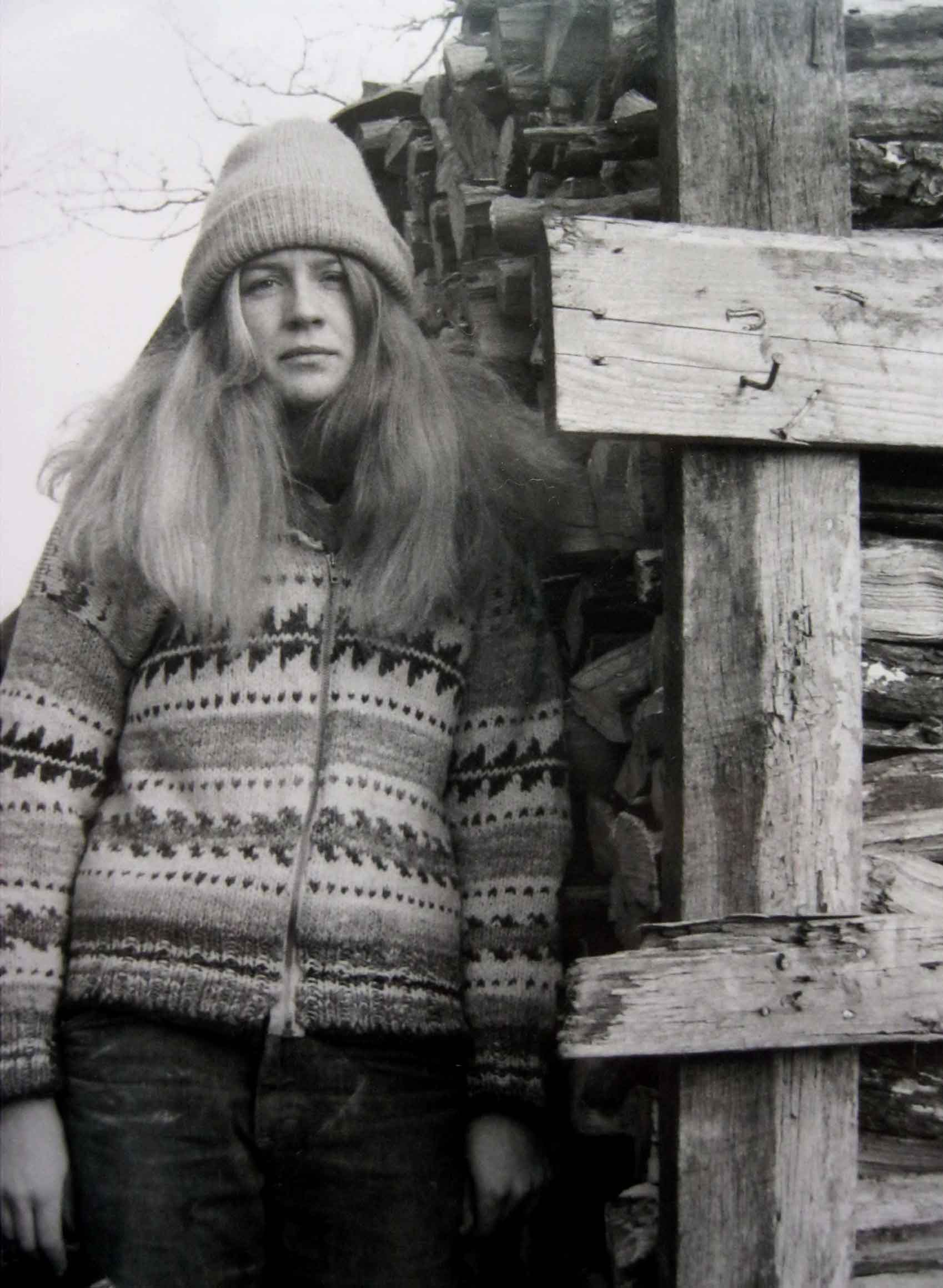 After graduating, Christianson moved to Minnesota determined to build her own kiln and studio. "I didn't know anyone who had a wood kiln when I built mine. I just found some bricks, and a hovel to live in." Her first kiln, built in 1977, was a "crappy little wood kiln, it was pretty awful."
It wasn't until 1980, when Linda was doing research on other types of kilns that she discovered an article in Studio Potter on Ann Stannard and the Bourry Box kiln. "It was a revelation," she remembers. "I had been doing this all on my own. By then, I knew of one other person with a wood kiln, but I had no idea there were other women wood-firing."
Such was often the case in the late 1960s and 1970s. Wood-fire was fairly new to the country, and there were few opportunities to learn. Eva Kwong, who began wood-firing as an undergraduate at the Rhode Island School of Design in the seventies, recalled that at that time, women like herself were routinely passed over for recommendation to schools, and entering the field was hard. Many early women wood-firers were simply forced to forge ahead solo or look elsewhere. 
After studying at Sarah Lawrence College in the late 1970s, Jane Herold went to England to work with Michael Cardew. She was his last apprentice. She had to persist in asking him to accept her until he agreed. "Michael didn't easily take on women," says Herold. "He never came out and said anything, and we got on very well, so it was only later that I realized I had to overcome his resistance to having a female apprentice."
After Cardew died a year into her three-year commitment, Herold returned to the U.S. to set up her pottery and kiln on property she rented from her friend Grace Knowlton, a sculptor and painter. Herold still lives and works there today.
Others looked to the East for opportunities to learn wood-firing. Asia proved even more challenging. Joy Brown, who grew up in Japan, studied fine art at Eckerd College in Florida. After graduation, she sought out an apprenticeship at a Japanese pottery when apprenticeships for women were uncommon.
"In 1974, I was back in Japan to visit family and was also visiting kilns and potters. I visited the famous pottery town of Tachikui, in Hyogo Prefecture, where Tamba ware is made, and asked the Ichino pottery—a thirteen-generation pottery family—if I could work there. Janet Leach had once spent time at this pottery, and I was passionate and young. I thought it would be easy. The first two times they said, 'No, but you can come back to visit.'"
The pottery was changing hands, passing from one generation to the next. The father, Toshio, was against having a young female foreigner in the studio. "He didn't think I'd amount to anything, and it was a waste of time." But the son, Shigeyoshi, had worked with the Leach family in England and was more open-minded. So after her third visit, they agreed she could come for one year.
Brown spent that year as a traditional apprentice, firing the Tamba-style wood kiln and making thousands of identical little sake cups. During that time, the father never spoke to her. "Not once," she remembers. She then apprenticed for another two years with Morioka Shigeyoshi, the husband of a childhood friend, in Wakayama Prefecture, where she was far more included.
After returning to the U.S., she fired in Paul Chaleff's kiln for five years before she built her own thirty-foot anagama kiln on property she and her husband purchased cheaply from a friend.  "I am deeply grateful for the men in wood firing who invited me in close into their process and from whom I learned just about everything I know," Joy says, but like many women at the time, she found it difficult to succeed.
"The bar for women was incredibly high back then," recalls Christianson. "Sometimes I got hit on and not taken seriously. It wasn't enough to be an equal. I had to be better. I had to work harder. Keep my head down. I didn't want to be seen as a target." Keeping her head down meant that for her first exhibits, she just used her first initial. "More than a few times, people said, 'I thought you would be a man!' It was as if they were disappointed."
Jane Herold remembers feeling very uncomfortable at early conferences, where she was one of the few women. "Most of the networking took place after hours, when the men would go out to bars," she explains. "So, if you didn't go drinking with the boys and act like them, you were excluded."
"It was so subtle that it was hard to know if it was prejudice because I was a woman, or because I was a nobody, or a nobody because I was a woman," explains Brown. "But in the early years, I was often passed over at conferences or invitational shows. Men got all the slots, or I wasn't invited. Maybe it was because I wasn't as pushy or 'out there' with my work as the men; I used to think, 'Sure, he deserves it, but so do I!'" 
Leading the Way
In time, these women made headway, and younger women could look to their older sisters for inspiration and education. From the late 1980s to the mid-1990s, there was an explosion of wood-firing activity. More women were building kilns with one another and starting their own wood-fire potteries.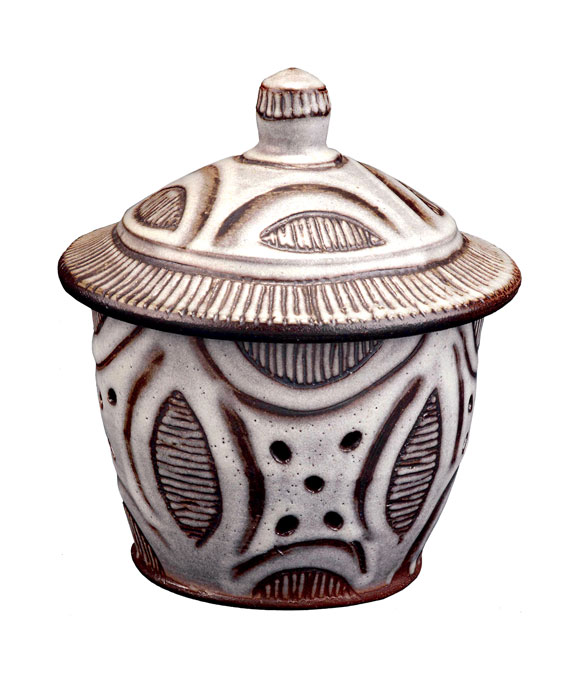 Louise Harter was instrumental in mentoring a number of women during this period. In 1989, she was teaching with Maxine Krasnow at the Supermud clay studio in New York City, and they shared a "wood kiln fantasy." After Harter participated in several wood-firings with Mark Shapiro at Stonepool Pottery, she became convinced that her and Krasnow's dream of building a kiln could become a reality. She and Krasnow decided to build one on property in upstate New York. "But neither of us knew how to build a kiln," Harter remembers with a laugh.
Krasnow charged Harter with building the kiln and leading the building crew. So, in 1991, Harter signed up for a kiln-building class offered by Will Ruggles and his wife, Douglass Rankin, at Penland.
"That was a really important class in terms of feminist leadership and identity in clay. With Will and Douglass, it was very important that as leaders there was one man, one woman. It made a difference. They were so wonderful at explaining the technical things I didn't know," Harter says.
That class also helped Harter learn a vital skill: "Without intention, the guys were holding all the tools, and we had to figure out how to redistribute the tools so that the women could have a hands-on experience. The guys were sympathetic, but we, as women, had to learn to self-advocate."
It took another year of fundraising before the largely female crew built the noborigama kiln in 1993, and many of the women who participated in that kiln build went on to build their own kilns and mentor others.
Jody Johnstone was one of them. After assisting on the kiln-build upstate, she looked for an apprenticeship in the U.S. but didn't find many opportunities for women apprentices. Potter Jeff Shapiro told her, "Go to the horse's mouth," and helped her arrange a two-year apprenticeship in Imbe, Okayama Prefecture, Japan, center for Bizen ware. "In 1994, there were 400 potters in the Bizen Potters Guild," she recounts. "And six of them were women."
Her teacher, Isezaki Jun, was one of the more open and progressive potters in Japan. He had several female apprentices before and during the time she was there. "I was given the same responsibilities as the men, but as a woman and a foreigner who spoke fluent Japanese, I was treated very well. I was given special opportunities, like going to tea ceremonies or visiting other potters."
Upon her return, she looked for property to build her anagama kiln and found it in Maine, an old homestead that was advertised in Ceramics Monthly. She built her first anagama, a twenty-four-foot kiln, by herself in 1996.
"I got a few dubious looks at the brick supply and lumberyard, but those guys all came around," she remembers. "No one said I couldn't do it. I had so much energy when I first started. I was single-minded. I came up here by myself and hit the ground running. I think when people are energetic and doing their thing, [others] are supportive."
Though Mikhail Zakin was her first teacher at Sarah Lawrence College in New York, Liz Lurie also caught the bug at Louise Harter's kiln-build. "Her enthusiasm was contagious," recalls Lurie. "Camping out and building this kiln all summer with a group of women—it was a great first experience. I had no experience with tools, but Louise was amazing in how she made everyone feel included and confident. Seeing a woman being so skilled in her role as leader in a large construction project definitely had an effect on me."
Soon after, she began firing with Jody Johnstone. "I learned so much from Jody. It was clear she was the leader, but she always solicited conversation about the firing. Through those dialogues we began to understand more clearly why different choices were being made." Linda Christianson was an early mentor of Lurie's.  She met Christianson while at Haystack Mountain School of Crafts as a work-study student, and is deeply grateful for her support and encouragement throughout her career, and particularly early on when she needed it most. "I owe a huge debt to all three mentors," she says.
A few years later, as the studio tech at the Worcester Center for Crafts, Lurie and another young wood-firer and kiln builder, Julie Crosby, fired a small hybrid-style kiln together almost once a month. "We got to make all the calls around the kiln, and I gained confidence," Lurie says.
Lurie moved to Texas to be with her husband and fellow potter, Peter Beasecker. There she met Louise Rosenfield, who was interested in building a wood kiln on her rural East Texas property. "After doing research on many different wood kilns and talking at length with John Neely and Judith Duff, we settled on the train kiln because of it's apparent ease of firing, and variable surfaces. There happened to be a group of women who were interested in building the kiln with us," Lurie says. "It was a wonderful building experience; it felt like I had come full circle from when I had helped at Maxine Krasnow and Louise Harter's kiln project. To be a part of providing an environment where everyone felt open and comfortable to learn was important. The Rosenfield kiln was based on Judith Duff's design for a train kiln; it fires with ease and predictability." Because of that experience, the train kiln became Lurie's kiln of choice.
Lurie now lives in central New York, where she has built what she calls her "Old Lady Kiln," another train kiln with a moveable, arched, lid so she can load the kiln without having to be crouched for hours on end. She works in the studio while her son is in school, offers community classes at her home studio, and hosts community firings with a crew that often includes students from Syracuse University, where her husband teaches. She hopes to host all-student firings and all-women firings in the future.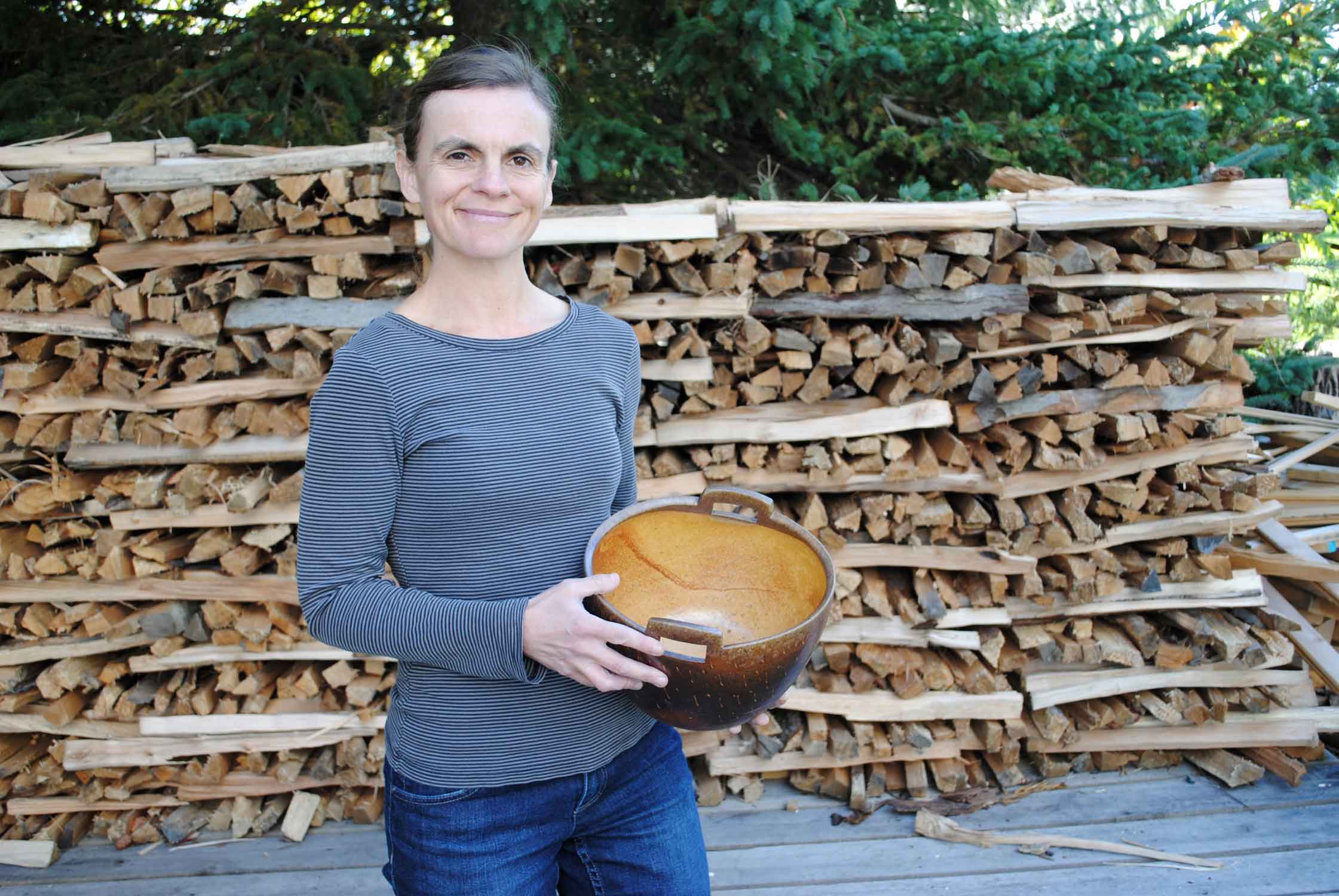 Julie Crosby discovered wood-firing and kiln-building by accident during college at the University of Hartford in Connecticut. "I was an art major, thinking I was going to study two-dimensional art. I knew nothing about ceramics, but my first work-study job was cleaning the kiln room. The department was building a Ruggles-and-Rankin double-chamber wood kiln, and I was amazed. I took my very first ceramics class the next semester, and we got to fire the kiln. I just loved how it worked and felt [honored] to be by the kiln and to be working with something so 'romantic'."
Crosby began learning about kiln-building in 1998 and credits a woman for helping her get started. Lisa Stinson was the studio tech at the University of Hartford, West Hartford, Connecticut, and Crosby's first mentor.  When Stinson became the ceramics department head at Louisiana Tech University, she invited Crosby there to help build kilns for a year. "She is the person who taught me to build kilns. She's not a wood-fire potter herself, but she taught me about wood-firing at Hartford. She gave me permission and confidence to do it . . . and do it on my own. Only the guys in the department were firing the wood kiln, but she told me that didn't matter and that if I was interested in wood firing I should sign out the kiln and fire it. In Louisiana, she taught me about kiln building and design, including brickwork, and encouraged me to keep building kilns if that was something I wanted to do. I owe a lot to her."
Crosby has gone on to build almost twenty kilns, many of them for other women, and is a potter, mother, and wife. Though she feels confident in her skills and more so with each kiln she builds, as the only professional woman kiln-builder currently working in this country, she sometimes feels insecure.
"To be honest, as a kiln-builder, I feel like I'm not worthy when I am talking with male kiln-builders. I wouldn't jump into a conversation on kiln-building with guys. And sometimes I feel like if I get a call for a job, I have to give a disclaimer—not saying, 'I'm a woman,' but, 'I haven't built as many kilns as Donovan [Palmquist],' almost explaining myself out of a job. I don't want to have to fight my way to be the female kiln builder out there."
Against the Odds
Not all women wood-firers began as young women. Some had families and careers before discovering wood-fire, and still others began even later in life. For them, a passion for learning and a drive to succeed were even more important.
Kristin Muller was introduced to raku and wood-firing in college, but it wasn't until after she married, had kids, and divorced, that she began her wood-fire career in earnest.
"In 1994, I was working at the Brookfield Craft Center in Connecticut and saw a flyer for a wood-fire workshop with Bob Compton in Vermont. It looked really exciting. So my friend Chris Alexiades and I said, 'Yes, we can make eighty pots, find babysitters, and go to Vermont.' We packed up the station wagon and spent four days with Bob. It was life-changing."
At the workshop, Bob told her that if she was really interested in wood-firing, she needed to go see Peter Callas in Belvidere, New Jersey.  
Muller took a two-day workshop with Callas, and he encouraged her to return. She and Alexiades became part of his regular crew. "For six or seven years, Chris and I cleaned the kiln and shelves, split wood, and worked hard," Muller recalls. "We would arrange babysitting, go for the day and come back. One-hundred-and-fifteen miles each way! During firings, we would put the kids to bed, go do a night shift, come home, and put the kids on the bus for school."
Because Muller had two young daughters and three part-time jobs, graduate school or a traditional apprenticeship was out of the question. "I did what I could to learn," she explains.
That informal apprenticeship led to others, including one with Mother Perpetua Giampietro, a Benedictine nun and potter with a passion for wood-firing, and a lasting friendship with Okazaki Takao, a Japanese potter who had built a kiln in Dingmans Ferry, New Jersey. Muller eventually purchased the property and the kiln from Okazaki and began firing, while embarking on a part-time graduate program at Hood College in Frederick, Maryland. Now, as the director of Peters Valley School of Craft, Layton, New Jersey, Muller fosters the development of countless other artisans.
Like Muller, Susan Beecher, director of Sugar Maples Center for Creative Arts in Maplecrest, New York, didn't start wood-firing until later in life. After making pots as a young mother in New York City in the 1970s, she had a successful twenty-year career in publishing and marketing. In 1991, she took a workshop with Jeff Oestreich that included a wood-firing and realized it is what she wanted to do. "I started reading whatever I could on wood-fire and figuring out how I could learn this by taking workshops and finding people I could fire with and learn from."
An early mentor, Malcolm Davis, introduced her to Mikhail Zakin. "She was very encouraging and we began a friendship," Susan recalls. "Mikhail was a tough lady. She was very much like Karen Karnes; she took making art very seriously. [Mikhail] had a big, huge kiln in her backyard, and she was firing it. At the time, I was in my fifties, and they were in their seventies. They were there doing it, so it gave me hope that maybe I could do it, too."
For ten years, Beecher studied kilns and dreamed of building her own, while simultaneously trying to talk herself out of it. "It was a huge expense at my age," she explained. "And I had this voice in my head that kept asking if I deserve this. Is my artistic expression valid enough to warrant this? I think that was a very common thought for women my age."
In 2001, she gave up her career in publishing and started making pots full-time. With the help of a hired building crew, including Julie Crosby, and many female volunteers, she built a Ruggles-and-Rankin-style noborigama on her property in the Catskills. A two-year legal battle with a neighbor, who thought the kiln was a "nuisance" and wanted it shut down, drained precious resources and prevented her from firing, but ultimately she prevailed. The case set a precedent in support of wood-firers across the country and is well documented in Beecher's 2005 book, Susan Beecher: Wood-fired Pottery.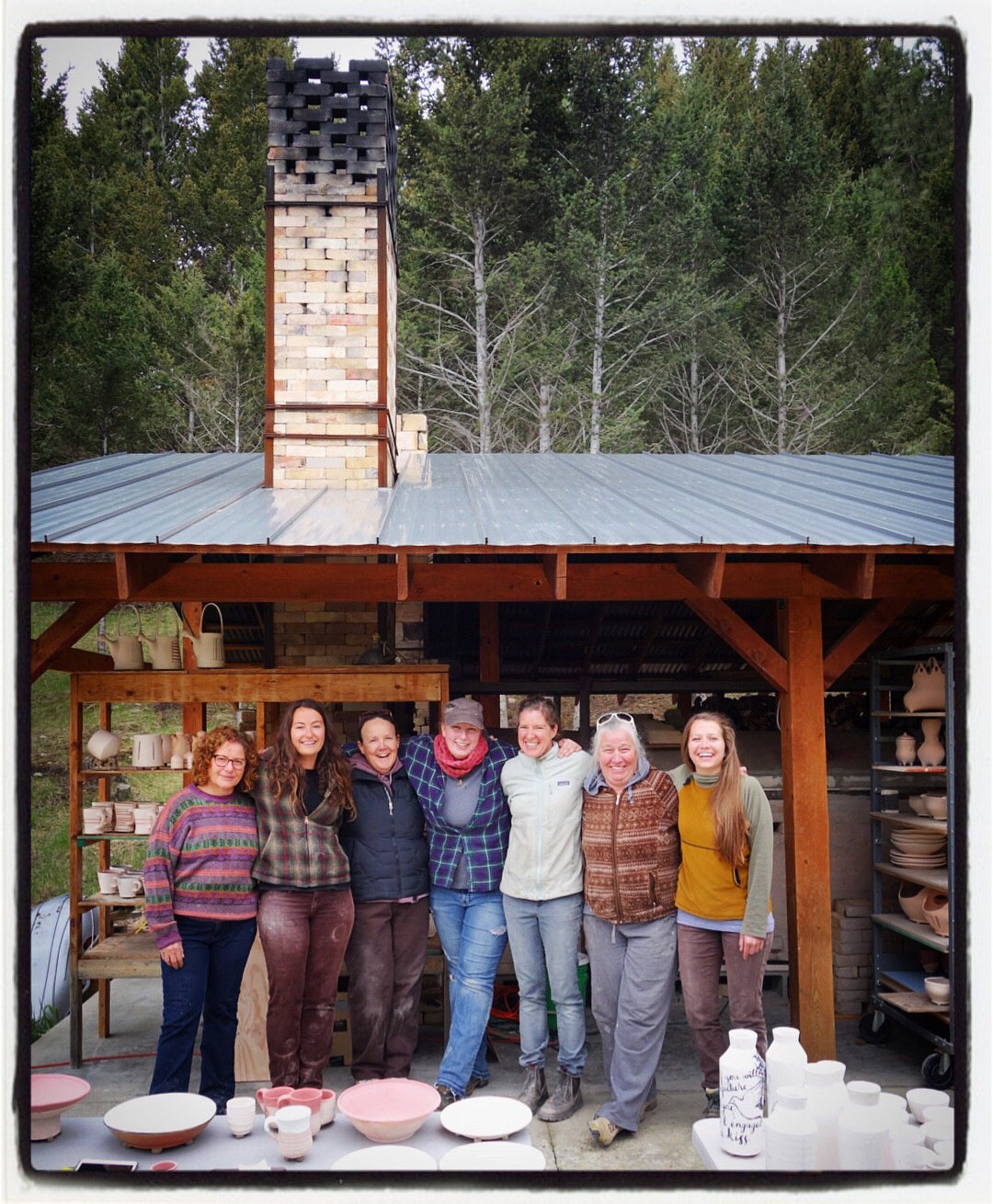 Changing Times
Recent generations have had the benefit of a more inclusive field, with formal education, craft schools, and residencies that truly fostered their development as wood-firers. Though still largely the only women in what is still a man's world, these young women have achieved widespread success at earlier stages than their predecessors.
Tara Wilson came out of the gate running. As an undergraduate at the University of Tennessee at Knoxville, she began wood-firing in her very first ceramics course and was drawn to wood-firing's physical nature, to the pots and the process, and to the "romance" of it. But, she says,  "I was usually the only woman firing."
She went directly to graduate school at the University of Florida and built a small catenary arch kiln there. But as was true of her undergraduate experience, she was the only person wood-firing. "I was kind of doing it all by myself."
She completed two successive residencies, first at the Archie Bray Foundation, in Helena, Montana, then at Red Lodge Clay Center, Red Lodge, Montana.  "Even at the Bray, I was the only long-term wood-firer," she says.
Undaunted, she moved back to Helena, opened her own studio, and built a train kiln, one that she could fire with little help, and continues to be a prolific maker and teacher.
"I feel like I got a lot of support and recognition early on," she says. Recently, she has begun scaling back her teaching, though, to focus on studio work and other interests. "All I did for years was work in the studio. Now, I have different priorities. I want to go biking or skiing. I'm more productive in the studio if I get a break."
Lindsay Oesterritter also started firing and building kilns as an undergraduate and went on to Utah State, where she worked closely with John Neely.
"I never had a female ceramic instructor," she says. "All my formal education was with male [teachers]. I didn't realize that there weren't other women at the time. There were other women at the kilns to fire with sometimes, but I never thought about it in terms of 'where are the other girls?' My teachers never treated me differently because I was a woman. If I felt any kind of gender issue, it came from peers, not teachers."
Following residencies at Arrowmont School of Arts and Crafts, Gatlinburg, Tennessee, and in Australia, she joined the faculty at Western Kentucky University (WKU). "Most of the people who ended up being lovers of wood-fire were women," she said. "The program had more women [than men] in it."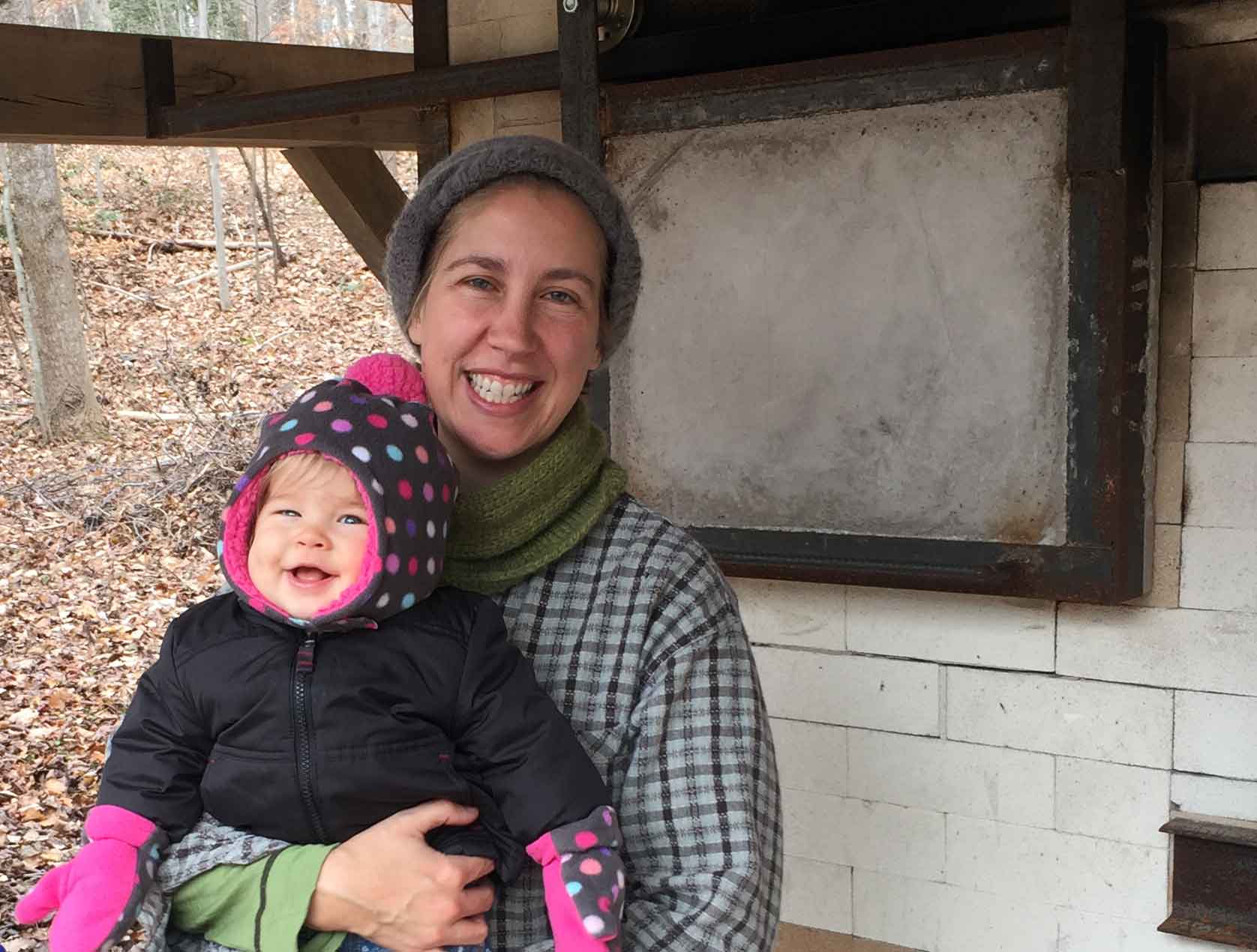 Oesterritter gave up her position at WKU in 2015 to build her studio and kiln and now teaches workshops around the country. She has seen a definite increase in the number of women interested in wood-fire. "I remember the first wood-fire workshop I ever taught was at Mt. Hood Community College [in Gresham, Oregon], and they were really excited that I was a woman because they had a lot of female students interested. I do have a lot of female students, and I think they appreciate the approachability and the collaborative way I teach. On the flip side, I sometimes have male students ask questions that they would never ask a male teacher—fundamental questions that maybe they wouldn't ask a man, in order to save face."
Oesterritter is a model for many young women wood-firers in other ways. As a new mother, she brings her infant daughter to workshops and conferences. "When I taught at Penland recently, I was nursing. Lots of women there said how glad they were to see me there with my daughter and how nice it was that I was able to show the generation below me that you can do this."
Heidi Kreitchet studied ceramics in high school, but never thought of it as a career option. After a semester at community college in Colorado, where she first experienced wood-firing, she changed her mind, and went to study at Northern Arizona University (NAU), which has one of the few undergraduate ceramic programs that focus on wood-firing. "I applied to NAU, and I never went to see the program. I just packed up my stuff and went. It blew my mind. I was so excited to learn. I spent most of my time wood-firing. It was mostly all male students. It was definitely kind of a boys club. It reminded me of when you were a kid, and it was 'What's the password to get into the boys' fort?'"
But, like most young women who wood-fire, she wasn't going to sit back. "I remember going to [Don] Bendel, my teacher, and saying, 'I came here to learn how to wood-fire, and I really need to be included in the loadings, firings, and unloadings.' He was so supportive. He really encouraged me to be more outspoken. To say, 'Hey, it's my turn to get in the kiln.' I was young. It was intimidating to take that initiative."
While at NAU, Kreitchet met Joanne DeKeuster, an NAU alumnus and wood-firer. "She still is a mentor," Kreitchet says of DeKeuster, "She was the only woman at the time firing the kiln. She would explain what was going on in the kiln, really taught us what was happening. She spoke differently than the guys. She was the one person at these firings who would reach out to me and say, 'Come on over here'."
After working for Don Reitz for two years and receiving her graduate degree from Utah State University in 2009, Kreitchet became the first director of the community clay center at the American Museum of Ceramic Art (AMOCA) in Pomona, California, where she now mentors hundreds of aspiring potters, young and old.
The example these women have offered has given other young women, such as Hannah Meredith, the courage and confidence to pursue a life as a wood-firer. At twenty-eight, Meredith is already making a name for herself. As Simon Levin's first full-time female apprentice in 2011-2012, she assisted on three kiln builds, one at the Bray. From there, she was a resident artist at Taos Clay Studio, in El Prado, New Mexico, and has gone on to apprentice and build kilns with Nick Schwartz at Flynn Creek Pottery in Comptche, California, and Scott Parady at Cobb Mountain Art and Ecology in Cobb, California. For her, there's simply nothing she can't do as a woman.
"Wood-firing is male-dominated, and it does require a lot of hard physical work, so I throw myself into it headfirst. I make sure to put myself into the hard work that the men are doing, too. I don't just do the easy stuff. If I'm the only girl here, and I don't know how to use a chainsaw, I am going to find someone to teach me. No one has ever refused to teach me."
Meredith sees that things are changing for her generation. "The new and established generations of wood-firers are far more accepting of women," she says. "The space is available, if women will step up and take it."
Still in the early stages of her career, Meredith is already passionate about being a leader and a role model: "When I am at a wood-firing, and there are younger boys and men learning how to wood-fire, I just step up and take the leadership role and show that women can do it. Just by doing it, I am showing that women are one-hundred-percent capable."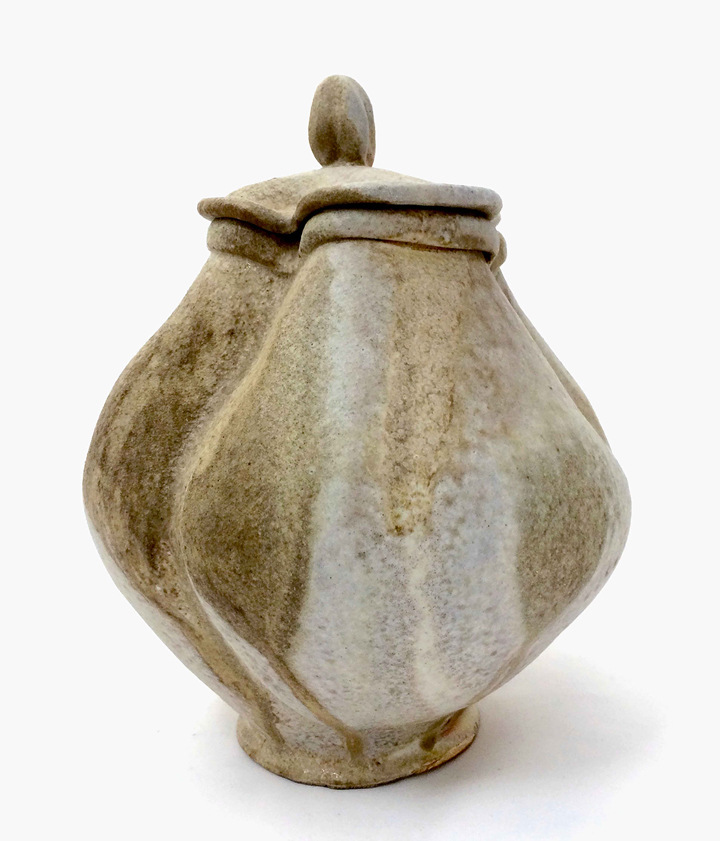 Firing Well With Others
At the recent International Wood-fire Conference at Waubonsee Community College, Sugar Grove, Illinois, Mark Hewitt raised the question during his opening address of why there are still so few women in the field. When Jane Herold took her turn on the podium during her scheduled presentation, she answered: "We don't have wives." That statement provoked a number of passionate responses from both men and women, some of whom took offense or disagreed.
But Herold's answer contained a profound truth: to be a wood-firer requires support, especially for women who want to raise families. Even without children, wood-firing is time-consuming and demanding, both physically and economically. It is, by definition, a collaborative activity. Although some women have worked with minimal assistance, most fire with a community of others, large or small, to help with the workload and costs.
Jan McKeachie Johnston has been firing with her husband, Randy, for thirty-eight years, and their strong partnership is what makes it all possible. "It's teamwork," she explains. "We share the physicality of it and all those responsibilities. We share a studio and an aesthetic, too, so it's a stimulating environment for me, and so valuable." The Johnston's noborigama was first built in 1972, and has been rebuilt twice.They built an anagama in 2002 as a teaching kiln so that they could include students in their firings, and Jan loves the community aspect of these firings. "The part of the process that I value as much as the finished product is a group of people coming together to expend so much energy for a final product."
Both Johnston and Liz Lurie have husbands with teaching jobs that help support their work financially and their roles as mothers. Lindsay Oesterritter's husband helped design and build the kiln shed. Kristin Muller's daughters participate in each firing, and her partner, John, has been profoundly supportive of her work physically and artistically. Others have husbands, boyfriends, wives, girlfriends, or partners who help with wood, construction, or childcare, and fire with friends, family members, neighbors, students, and assistants.
Increasingly, though, women are sharing the load by firing with each other. It's not that they exclude men, but there is a different dynamic around a woman's kiln that seems to foster collaboration and communication . . . and great meals.
Though her firings include both men and women, Linda Christianson remembers the first time she fired a kiln with all women. "We were firing a Tozan kiln on Vancouver Island. There were twenty of us—all women. There was so much sharing, taking care of each other, and looking out for each other, putting each other's best interests at heart. The incoming shift even cooked for the shift that was leaving. Every six hours we got a fabulous meal!"
Joy Brown fires with a mixed-gender crew now but recalls discovering the difference in a female-led firing at her kiln: "Ten years ago, we were at the end of my firing, and there were flames shooting out of the chimney. We were all lying around watching the fire, and Chris, this guy who was on the crew, said, 'I like a women's firing!' Half the crew was men, so I didn't know what he was talking about. But he meant that the energy of this kiln was different from a man's kiln. It was more collaborative. There was flow of connection and collaboration between the people."
Jody Johnstone's crew has been largely women from the beginning, and it's a cooperative process.  Her kiln has smaller shelves that make loading easier, and the crew takes frequent breaks for eating and stretching. "Everyone brings pots, and we lay it all out. We take more time to load, and talk about where we want pots, and honor that. Everybody's pots go on every shelf. We really share the kiln. And it's so valuable for my daughters to see all these strong women around the kiln."
For Louise Harter, it's always been about giving women leadership roles at the kiln: "Men would say, 'I can do this or that, so you have to invite me to fire.' I didn't exclude them as a general rule, but my criterion was always that they were able to accept leadership from a woman. I like to create an environment where women, especially older women, can learn, take leadership and master a task."
While the younger generation has had supportive experiences firing with men, they are also finding women's firings appealing. "It's nice to see a group of men pal around," says Heidi Kreitchet. "It makes me happy that they are so tight, but I don't know if it's necessary for me to be in this situation anymore. As I've gotten older, I want a different experience. I'd rather be in a smaller, more intimate group, that is more focused."
Tara Wilson has recently hosted all-female firings, including one on International Women's Day, and Liz Lurie says her husband's female students often ask for women's firings, which she is considering hosting. 
Passing the Torch
In their roles as teachers and mentors, kiln builders and kiln leaders, artists and mothers, women wood-firers are encouraging other women, passing the torch to the next generation.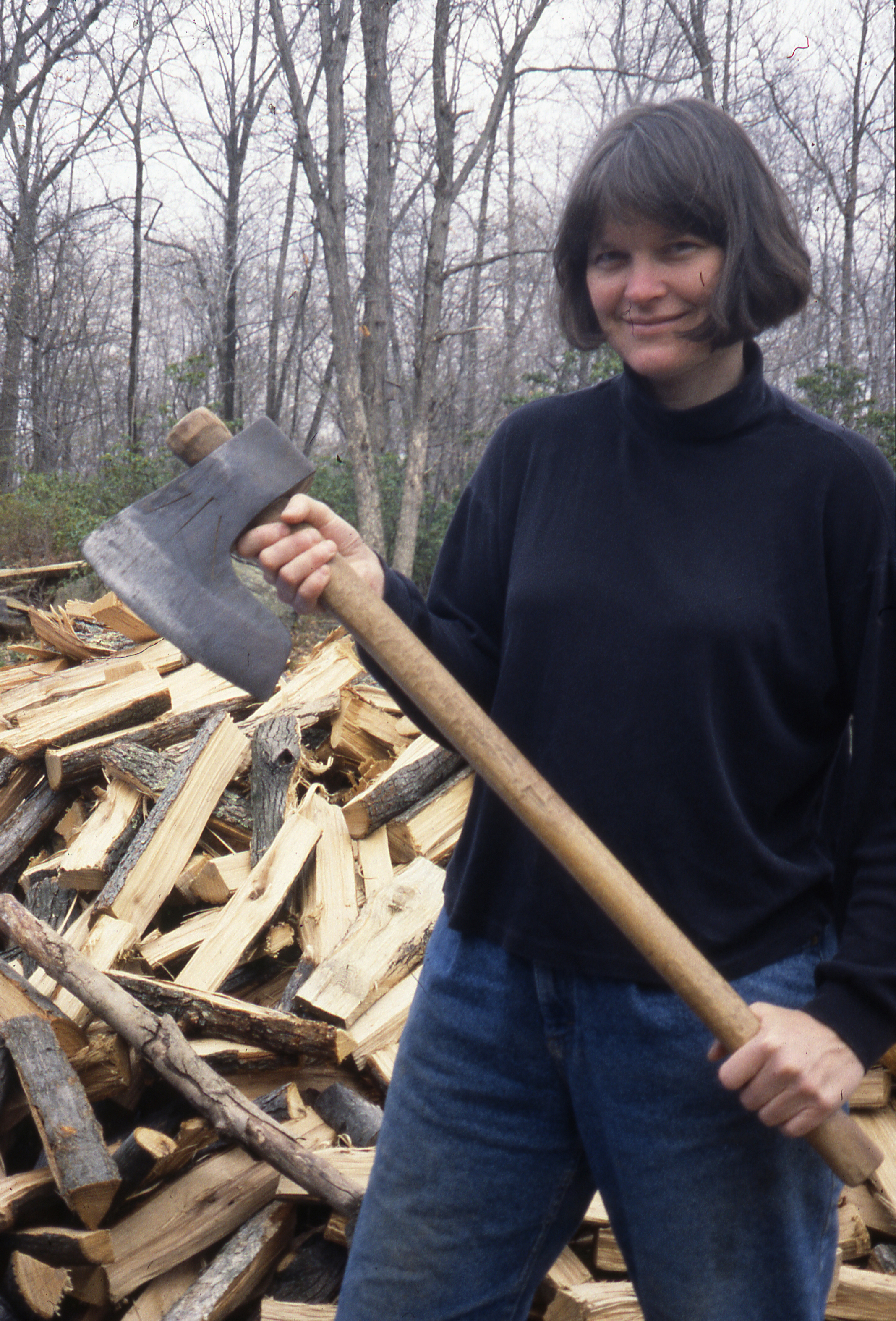 Joy Brown says she takes her role as a mentor "very seriously." Whether it's through her firings or her nonprofit arts organization, Still Mountain Center, she is passionate about sharing the art she loves with others. "My parents were missionaries, and this is my missionary zeal!"
As one of the elder wood-fire women, she also sees herself as a model for aging gracefully in this arena, and credits Karen Karnes for leading the way.
"Karen would fire with us when she was in her eighties, and she would often lament that she was useless, saying 'I can't lift. I can't help.' At one point, she said, 'I just don't feel like making pots anymore.' I was stunned. How could she stop making pots? Put her tools down? But she helped me see how to navigate these changes, and got me thinking, 'How am I going do this when I'm ninety?' She was such a model for how we, as women artists firing with wood, can move gracefully through all the stages of our lives."
"I recently had hip replacement surgery," explains Brown. "I'm not supposed to lift heavy things. This is where I'm at now; I have to let go of some things and find someone else who needs this lesson."
As the director of Peters Valley, Kristin Muller encourages women to pursue all the options that are now available: "There are so many more resources, opportunities, and different aesthetic choices . . . there's lots going on and lots of myth-busting. There's so much more out there than there was twenty years ago, when it was all a mystery. I love talking to young women about it. I tell them, 'You can have it all. You can have families and children and kilns and careers. It's all about the choices you make'."
Louise Harter also continues to mentor women in community clay centers but focuses on working with older women and lesbians: "It's part of the feminist project for me. There are a lot more opportunities for young than for old, for straight women than for lesbians, or for others who, because of disadvantage, are excluded from the field."
Susan Beecher, who teaches numerous workshops at Sugar Maples and other craft centers and at her local community clay center in California believes, "One of the most important things I can do is to mentor. At this point in my life, it gives me great joy to provide encouragement for young people and women who become my students in a world that doesn't offer much." Susan was the curator and organizer of the Women With Wood: Three Generations exhibition at the National Conference on Education for the Ceramic Arts in 2008, a pivotal event that brought women wood-firers into the spotlight.
Many of Jody Johnstone's female firing crew have gone on to build their own kilns, and she considers it a great honor to have helped them find their way. As she recovers from a recent bout of breast cancer, former firing partners have returned to help her, and she relies more heavily on her crew.
And for Julie Crosby, passing on the skills she has learned and encouraging more women to build kilns are almost obligatory. "It's important that I teach someone else, preferably another woman or women. If I could be a mentor to someone, that would be an important part of what I call success."
"I see that the women in my studio are so grateful for having a woman there," says Heidi Kreitchet. "They are looking for the same things we were looking for: advice, help, encouragement, and guidance. There are more and more women coming into it, but it's still not enough, so I think it's so important to encourage young women."
Encouragement comes naturally to our Godmother, Ann Stannard, who has always seen herself as a teacher before anything else: "Just listen to yourselves. Do not be caught up in social media or magazines or be concerned about men or women or what anyone else thinks. Just find your own expression and do what interests you.